who they are
Founded in 1917, WaFd Bank is one of America's strongest financial institutions, with one of the highest capital ratios among the nation's largest publicly traded banks. WaFd is one of the largest national banks headquartered in the Pacific Northwest, with over 2,100 employees, 220 branches and $19 billion in assets across eight states. They're a full-service bank that offers two primary lines of business: consumer banking and commercial banking. WaFd is also known for its strong capital levels, high-quality assets and robust loss reserves.
Assets

$19B+

Branches

220

Headquarters

Seattle, WA

Founded

1917
Challenge
Like many other mid-size financial institutions, WaFd Bank has been frustrated with limitations tied to using"out of the box" solutions from their technology vendors. They were unable to innovate in the ways—and at the pace—they wanted, which inhibited their ability to meet the ever-evolving needs of their customers.
Solution
WaFd Bank consulted with MX and then went about detaching themselves from their hosted online platform provider, embarking on a middleware project they call a "Path to Freedom." Now aligned with more modern, agile vendors who share their same vision, WaFd is all-in on providing cutting-edge technological solutions—including the full suite of MX products—to their consumer clients.
Breaking Free
Since going public more than 30 years ago, Washington Federal Bank's shareholder return was in the top six of all banks that have been publicly traded over that period. Not the top six percent—the top six banks. As a savings and loan provider, their product offerings were spare and streamlined; they didn't even offer checking accounts until the 1990s because one of their previous chairs believed that the more access you gave people to their money, the more likely they were to withdraw it and take their business elsewhere. By 2013, the bank had switched from a savings and loan to a full-service commercial bank, but investments in technology were just covering table stakes.

In 2019, however, they reached a technology tipping point.
"We were pleased with our track record, but that also scared me to death because it's easy to get complacent. It's human nature to be conservative and not want to mess up a really good thing. But that's a real risk today—that we just fall in love with who we were in the past and fail to innovate and be proactive in meeting our customers' current needs."

Long tethered to third-party core and digital banking providers, they'd grown weary of the myriad limitations those relationships entail, and they wanted more control over their own future. So they had a choice—they could maintain the status quo, or they could start to cut themselves loose and try something bold and new.
They chose the latter, rebranding as WaFd Bank and launching Project Liberty, where the bank's own middleware would handle various API integrations to power a new, bank-designed online experience. MX was chosen as the mobile banking partner.
This path is enabling the bank to more fully operate according to their belief that every banking transaction holds a deeper meaning—whether it's saving toward a future goal, buying a home, or investing in a thriving business. It's WaFd's mission to provide a secure financial foundation that helps their clients accomplish their goals so that all can benefit.
"For a long time we stayed as far away from technology as possible," Beardall said. "And while we were unbelievably efficient, that was a poor long-term strategy. You have to really look for what consumers want. Think about Amazon, which has shown the world what a digital experience could—and should—be like. That's both a blessing and a curse for us because it's really hard for community and regional banks to deliver a digital experience that's on par with Amazon. But that's what our customers expect. Until we get to that point, we'll be disappointing our customers and leaving room for disruption in our industry."
Building a Customer-Centric Future
Instead of shunning technology, WaFd has done a 180-degree turn and made it a priority to invest in cutting-edge fintech solutions. There were several layers to this process.
First off, WaFd founded Pike Street Labs as a sister company dedicated to building out the tech stack they needed to become independent. They also collaborated with MX—starting with a conversation between Beardall and MX co-founder and CTO Brandon Dewitt—on what kind of future they could build together.
"As a regional and community bank, we have to evolve to survive," Beardall said. "If we just keep our head in the sand and let the big banks take market share, there won't be any business for us. We like to say that we're big enough to be relevant, small enough to be nimble. One thing the megabanks can't do is be nimble, and it turns out that businesses and business owners want to meet with decision makers and have a relationship. That's something that can't be mimicked with an algorithm."
WaFd wants the best of both worlds—the relationships of a community bank combined with the technology of a larger institution. And for them, a big part of the puzzle is owning their own data and then being able to utilize it to better understand their customers and provide them with products based on their personal needs.
"Banks have historically been overwhelmed by the amount of information we have about our clients," Beardall said. "But the realization I've had in the last year or so is that what we have access to just a small fraction of what we need. If we could have a real-time understanding of our clients' financial health, we could use that data to really help them."
Partnering with MX has given WaFd access to tools that help them uncover important financial health insights within their data. One example is their utilization of MX's Analytics Suite, which allowed them to see that roughly 44% of their clients who use MX's money management tools were classified as "financially vulnerable."Additionally, MX's aggregation capabilities help WaFd develop a better understanding of their customers' full financial picture. Since WaFd launched with MX, more than 6,500 external accounts have been aggregated by their customers.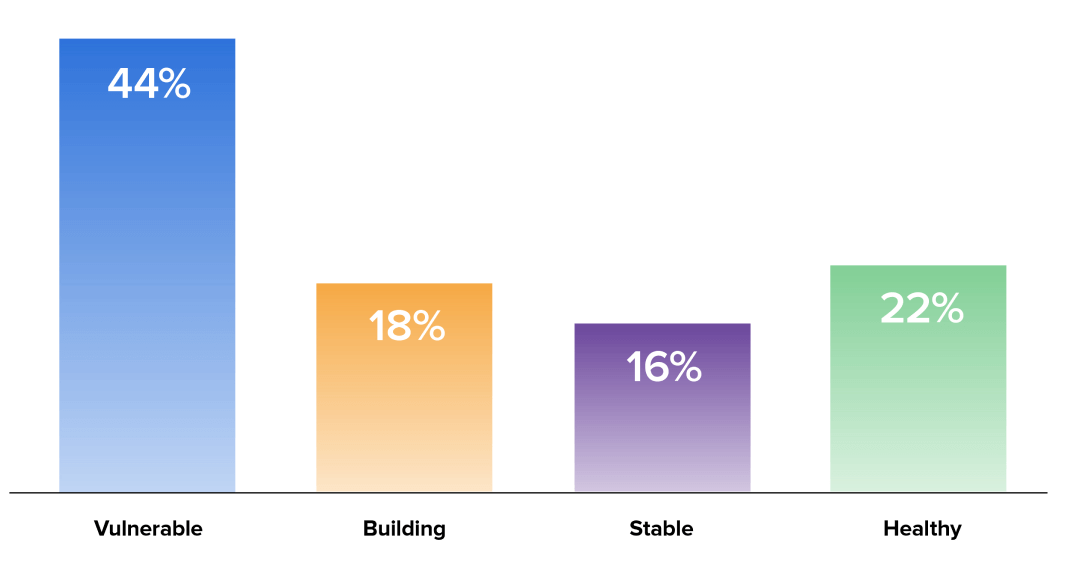 With these insights, WaFd is better positioned to reach out to specific segments of their customers and provide them with products and services that can empower them to strengthen their financial health.
"There was just this tremendous alignment between our companies—our missions, our vision for what finances should be," MX co-founder and CTO Brandon Dewitt said. "WaFd just needed to get unstuck technologically so they could more fully own their digital space and be able to utilize the data and tools that MX provides. Ultimately, that's going to enable them to deliver the experiences they want to be able to offer to their customers without having to build it from scratch themselves."
Freedom to Innovate
Now that WaFd is unencumbered by long-term contracts with slow-moving vendors, they can control their data, own their middleware, and be more selective about what vendors they use—and then maintain the ability to cut loose from those relationships if they're not working out.
This type of freedom—to innovate and build on their own terms—is at the heart of WaFd's journey.
"We have a huge opportunity to innovate and reinvent ourselves," Beardall said. "Big banks move really slowly, but we can be out there offering new services and proactively engaging with our customers. It's the antithesis of what our CEO used to say that we don't want to provide people access to their funds. No, we want to provide that access whenever, wherever and however they want it. We need to make banking easy and transparent so our customers can make smart financial decisions."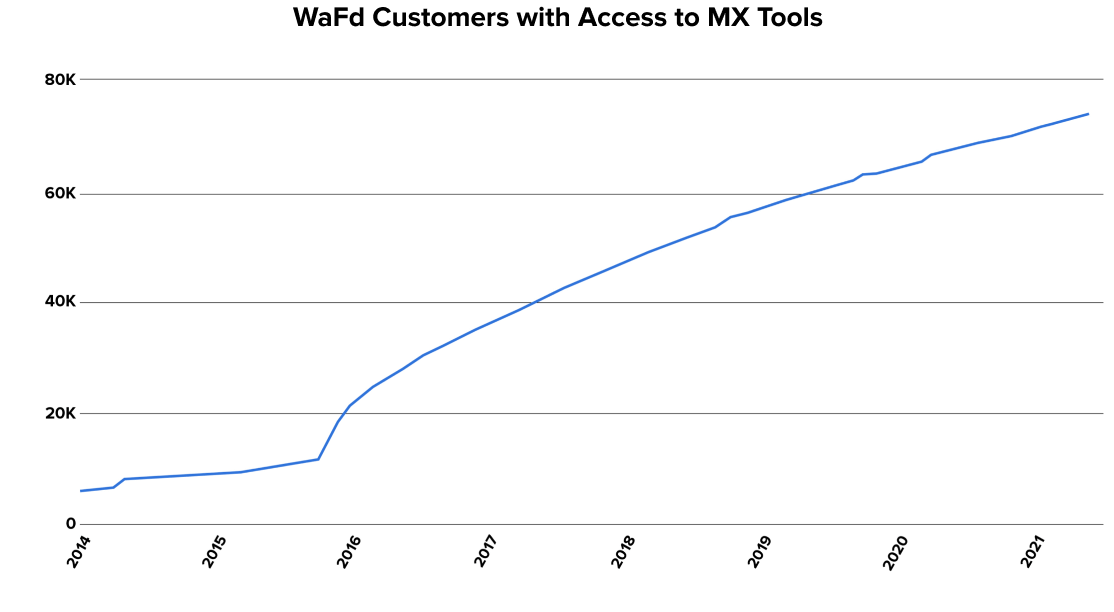 One of the things I love about what MX has built—and we talk about it often at WaFd—is the path to freedom, the control of our own destiny," Beardall said. "It goes back to open-source software and empowering people by providing them with the right tools."
Another key element of WaFd's journey is their flexibility to partner with forward-thinking fintechs to provide their customers with leading technological solutions. The relationship between WaFd and MX is one example. WaFd purchased MX's full suite of products, including Pulse, which provides smart, AI-powered insights to help users increase their financial strength.
Since 2014, more than 74,000 WaFd customers have gained access to MX tools that help them connect all of their accounts to see them in one place, set financial goals, create budgets, and track their spending—enabling a better end-user experience in managing their day-to-day finances. In fact, users who engage with MX's tools have a significantly higher median deposit balance ($6,500) than those who don't use them at all ($1,500)—a strong indicator that investing in an experience that supports financial health pays dividends in loyalty and wallet share.

Giving their customers access to that technology will help WaFd continue to be relevant in a world where traditional banks—especially regional and community banks—face competitive threats from all sides.
In 2007, banks with over $50 billion had about 55% of US deposits. Now—more than a decade after the Great Recession—that share has grown to 78%.
"We have to change that or else our franchise will go away," Beardall said. "And we have to ask ourselves legitimately if they should go away. Are we delivering value? If we're not, then the answer is probably yes. But if we want to survive, we have to figure out a way to innovate and get things done for our customers. And that's what we're trying to do."
If you're interested in discussing how MX solutions can improve your digital and mobile offering.
Let's Chat