Blog
Back to Blog
Humanizing Money: How 2020 Will Change the Money Experience — For Good
June 26, 2020
|
0 min read
Copied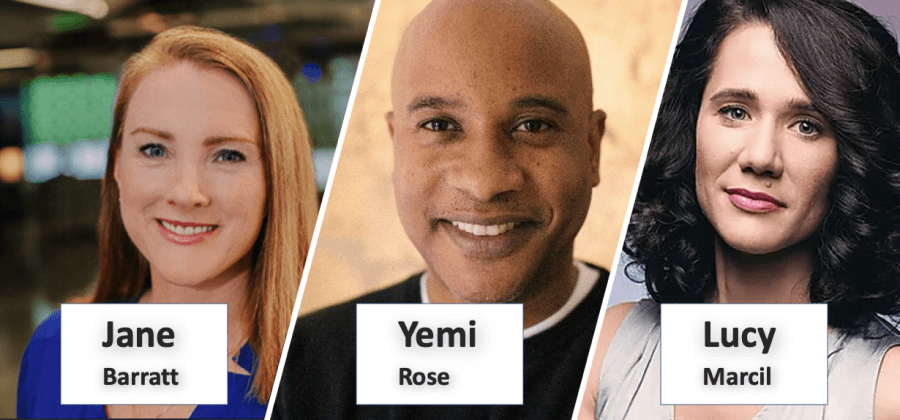 Jane Barratt, Chief Advocacy Officer at MX, Yemi Rose, Founder and CEO at OfColor, and Lucy Marcil, Pediatrician and Social Entrepreneur explored the topic of humanizing the digital banking experience in the New World webinar series from MX. The discussion was full of key insights that banks and credit unions can use to reimagine the way they approach not only digital, but the human experience of money as a whole. 
Read some of the highlights from the webinar below.
1. Financial institutions should transition from talking about inclusion to real action
There are a lot of challenges that financial institutions must overcome when it comes to transitioning from inclusion to action.
Barratt explains that "there are so many conversations around inclusion, like financial literacy and financial education, and we want to make sure that everyone has access to a bank account and it feels like so many inclusion conversations are around you're going to get access to a bunch of products and we've checked the box."
Rose believes that the "farther you get from end-users, the more difficult it is to build tools and solutions that help them." This is especially true in big banking, Rose goes on to say, because "we rely a lot on data sets that supposedly speak to underserved groups. But they ignore people of color and the underbanked. You need to hire more people that look like your customers. Once you develop empathy, you can see they're more than numbers and a marketing issue to figure out. You have to get down into it to figure out what are the tools that will not only make you the most margin, but will help your end-user and unlock customer lifetime value."
2. Technology should humanize the money experience
Money can be used as a weapon, and systems can make it hard for people to break through. We need to humanize money while relying on digital channels to do that, but how?
Rose explains that "payday lending only exists to fill a void that was left by large institutions that failed to serve the needs of people in [certain] neighborhoods." He goes on to say, "we see a lot of efforts on personification from digital brands today — [for example] Dave and Bridget — and no names that resonate with consumers of color. So you have to ask, humanizing for who?
Rose states that humanizing money means real customization not just on the what you're providing, which are the tools that will help your customers, but also the how: what are the cultural cues that will encourage adoption?
"When you put products in the world and you don't have conversations with customers, you might be surprised at the little things that might turn them off or silently single that it's not for them. Technology allows us to micro target for specific needs. If you're not going small and wide right now you're ripe for disruptive technology."
Marcil echoes Rose's sentiment and goes on to say, "I agree, people don't know most mainstream institutions that deal with finances or have had bad experiences with them. We get people to trust us again by making it personal. We have people from our clinic calling [patients] and making relationships with them, and by being reliable and making sure we notice what matters to them." In essence, she says that humanizing the experience starts by "treating people like high-quality human beings because that's what everyone needs and deserves."
3. Government must play a critical role in establishing a better financial system
There's a clear need for regulations that are more inclusive. But what exactly can people and institutions do differently to execute on this successfully?
Barratt highlights that "the government responsibility is a really interesting point where you do have other markets like Canada, for example, where they mandate bank accounts for everyone."
Rose believes that "on a macro level, a lot of banks [and credit unions] have stepped up during this COVID crisis." He states that "we're seeing various forms of mortgage assistance, home equity loans, lines of credit, mobile units, financial centers and ATMS to assist [customers'] needs. But you have segments of the population where hard times are a way of life. I believe the situation has been urgent for decades. [We] need the government to step in and to help assure credit and liquidity for those that are at a higher credit risk and to have that system live alongside the current system that we have."
4. Human-centered experience have a few essential components
Being financially literate doesn't magically make people's finances fall in line. There are, however, critical components that go beyond financial literacy focused on human-centered experiences and products that will lead to better outcomes.
Rose believes that one of the critical components is moving to a model that adopts "just in time financial literacy that provides information you can use in that moment." He goes on to say, "[It] doesn't make sense to teach me about interest if I have a negative net worth. The customer gets more choices every day and we are in a situation where we need to focus not only on branch distribution but digital distribution as well. [Today], there are 35% fewer financial institutions in neighborhoods of color than they are in majority white neighborhoods."
Marcil adds that another way to help focus on human-centered experiences, in addition to Rose's recommendations, is by "automating things for people as much as possible. If there's a way a bank can make it easy for someone to make things recurring, or sign up and not think about it, it can go a long way. Coaching can be important from a strength based idea: people have goals and might need a little bit of advice to help get there."
She also states that it's important to "recognize that in underserved communities, people have the same hopes and dreams that you do and if you can tap into that and empower them, you will have loyal customers for life."
Related Blog Posts