Blog
Back to Blog
20 Questions with MX's New Chief People Officer, Kimberly Cassady
April 14, 2022
|
0 min read
Copied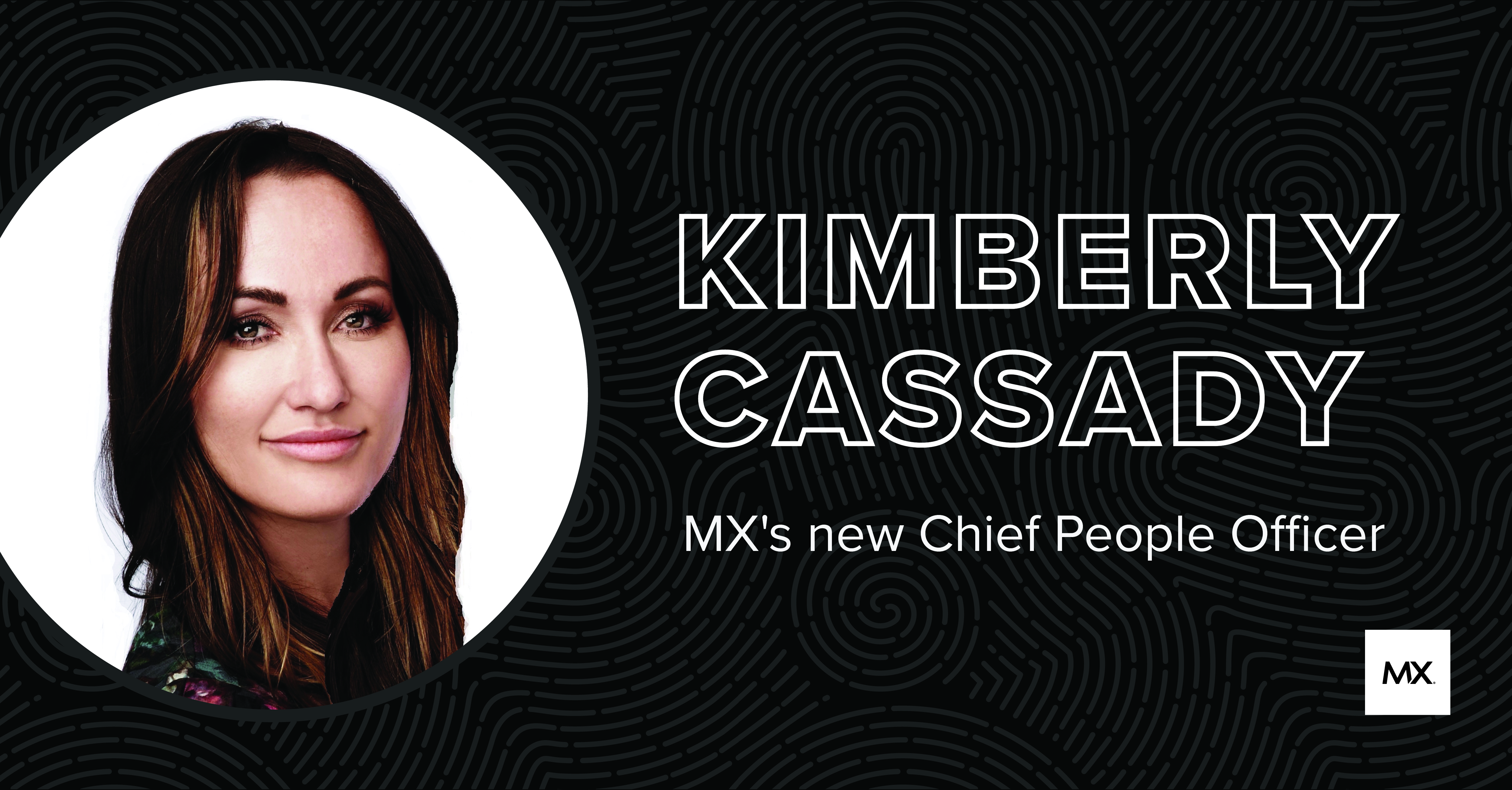 MX, the leader in open finance, recently named Kimberly Cassady Chief People Officer. With more than 25 years of experience, Cassady will serve on the company's executive leadership team overseeing the people and culture teams. To help everyone get to know Kimberly a little bit better, we had her play 20 questions with us!
1. Describe your background in 50 words or less.
I thought I wanted to be a pharmacist but found greater interest in business classes and switched my major. Near the same time, I had the opportunity to become a recruiter and this was my entry point into Talent Management. Here I am, still loving it today more than 25 years later. 
2. What's your favorite thing about people development?  
Helping people realize their potential
3. Coffee or tea? 
Almost always coffee and always iced.  Even when it's tea it's often iced.  I have nitro cold brew on tap at my house.  While it may sound extravagant, it's way cheaper than stopping everyday to get one.
4. What's your go-to snack or treat? 
Chips and salsa. I could do it for every meal.
5. What kind of motorcycle do you ride? 
Harley Davidson Soft-tail Slim. Her name is Houlihan.
6. Best piece of career advice?
Always say yes to a new project; different team, different field. It doesn't have to be permanent but it's an opportunity to develop and will serve you well for years to come.
7. Favorite hobby?
 Riding my motorcycle on the California coast.
8. What's one thing candidates should know when applying for a job? 
You don't have to have a finance background or degree to join a fintech. 
9. Why MX?  
Quite simply the people, the culture and the technology.  In that order ;)
10. Favorite sport and why? 
Baseball.  Go Yankees.
11. One thing that you always pack on a trip? 
Theragun Mini…it's an insta' massage and great on tired feet.
12. Favorite MX value? 
Founder Mindset "If not me then who? If not now, then when?" I love how this speaks to both the responsibility we all have as team members to each other. 
13. Favorite Disney princess? 
Character: Cheshire cat from Alice in Wonderland.  Princess: Aurora, but I'd put the Cheshire cat over her any day.
14. Why is diversity, equity & inclusion important in the workplace? 
It's the greatest way to amplify innovation. 
15. What would you tell your younger self? 
Trust your gut and don't second guess yourself. If you were wrong, you simply grew from the experience. 
16. Favorite quote? 
"Do or do not. There is no try." - Yoda
17. What's one book you always recommend to others? 
"The Hard Thing About Hard Things", by Ben Horowitz.  It's a good reality check and a great reminder about how hard it really is to create, grow, and maintain a great company and culture.  
18. Last TV show that you binge-watched? 
Yellowstone.  Late to the game, went through all 4 seasons and then watched the prequel 1883. 
19. What dish do you bring to a potluck? 
Homemade salsa. 
20. What will you tackle first in your new role at MX?
Learn the fintech business and help our team members successfully through change, in preparation for an IPO.
Related Blog Posts