Blog
Back to Blog
Easy SBA Portal Demo and FAQ
April 9, 2020
|
0 min read
Copied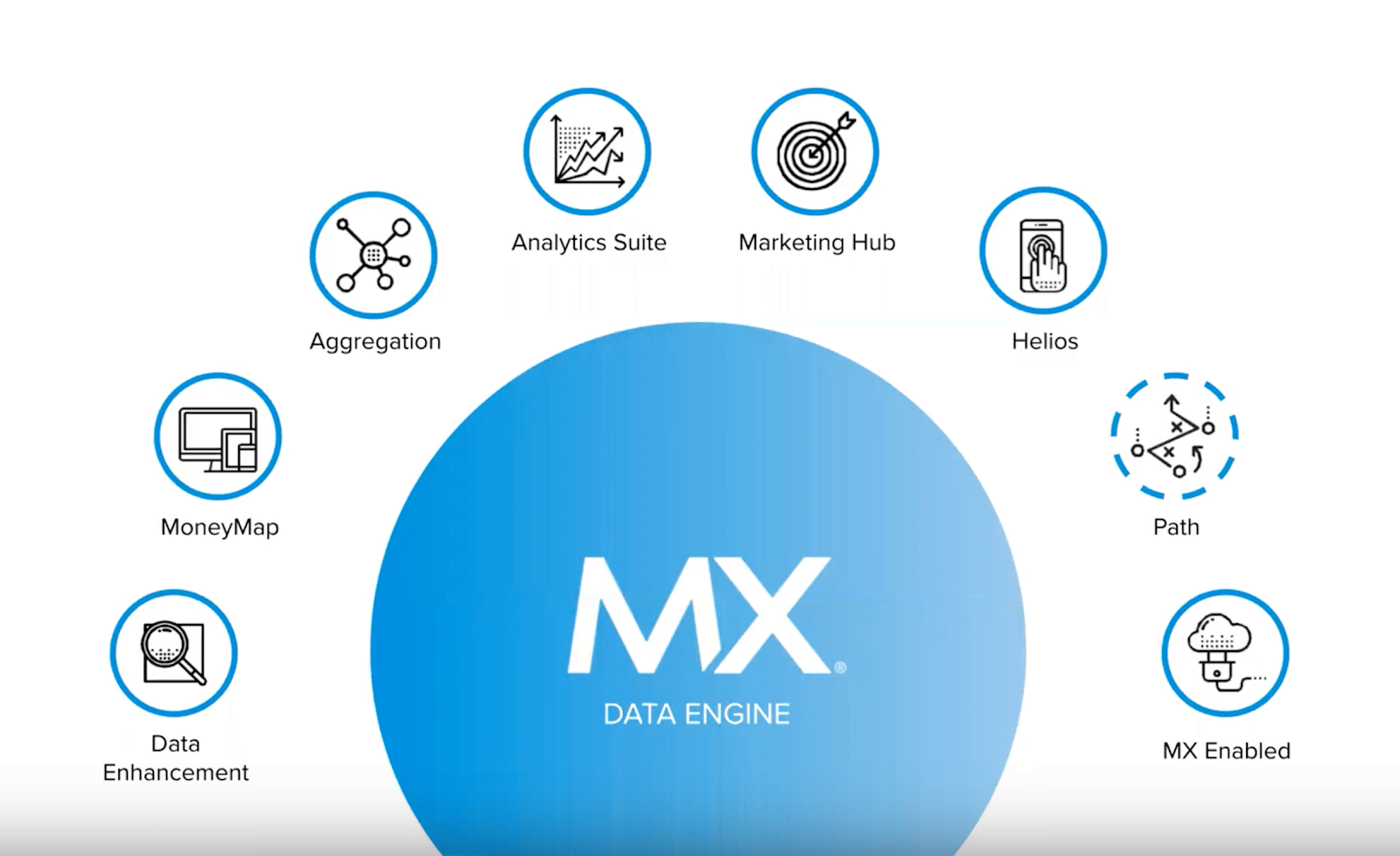 We developed the Easy SBA Portal to help financial institutions and their small business customers with the Paycheck Protection Program (PPP) application process. To see the product in action and hear some client questions, see the webinar above and read the full transcript below. 
View additional FAQs beneath the transcript.
Transcript
Shayli Lones:
Hello, everyone, and thank you for joining us for this recording. Today we have two of the leaders behind the technology and products at MX. I'd like to introduce Brett Allred, our Chief Product Officer, and Brandon Dewitt, MX co-founder and our Chief Technology Officer.
Today we'll be taking you through our new solution designed to help streamline the process for submitting the Paycheck Protection Program, or PPP application.
If you have any questions or would like to learn more, please visit MX.com/sba.
And with that, I'll pass it over to Brett and Brandon.
Brett Allred:
So, for those who are a little bit unfamiliar with MX, I thought I'd just do a quick background. Generally, when we go out and we pursue this mission and we really try to build tools that are going to help people, we'll work with financial institutions and we have this premise that if we connect our data with the financial institutions' data, they can load it into MX's data engine and there's a series of applications that we build to help users with their financial life, as well as healthy institutions.
Last week, as we were hearing more and more about the SBA PPP program, and with the stimulus package that came out with the government, we quickly learned that, while there are funds available to help these small businesses, the ability to capture the data from the small business through the institution and then, in turn, submit that data to the SBA was a real problem.
And, quickly, Brandon and I got together and said, 'Look, what can we do about this?' Because we're in a position where, both from a mission point of view and just as humans, we want to do what we can to help. And so, leveraging the technology stack that we have as well as the amazing team, on Friday we got together with a small group of people and we started building out this solution to the problem.
I'd like to take you through a few things about how that works, and we can talk about the background, but the solution is broken into really two components and the two components address the major part of the problem.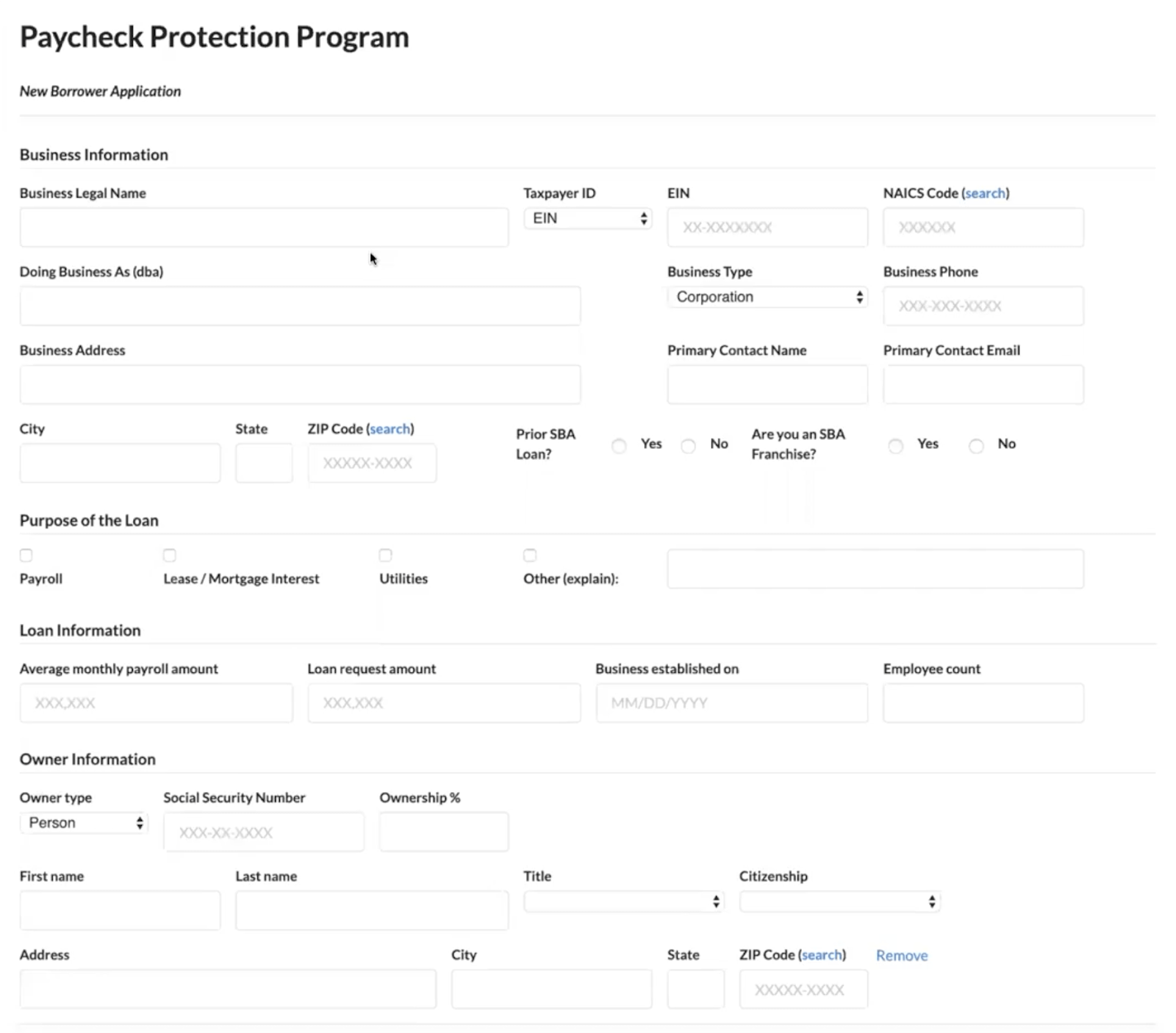 First, we have small businesses that need to get all of their information to the bank or to the credit union. We have this form that can be customized and hosted, that is branded to the institution, and it has all of the fields that are needed in order to submit an SBA PPP loan. One of the challenges that we've seen is that, while the SBA came out with a form that small businesses could fill out, they would submit that form into the institution but it didn't have all the fields that were actually required to get an SBA loan number.
What we've done here is we've built this web form that you can open up to the public if you'd like, or you can put it behind an authentication wall if you only want employees of the bank to have access to this form. In the first step, the small business or the employee of the bank will come in and fill out everything that is needed in order to process one of these loans.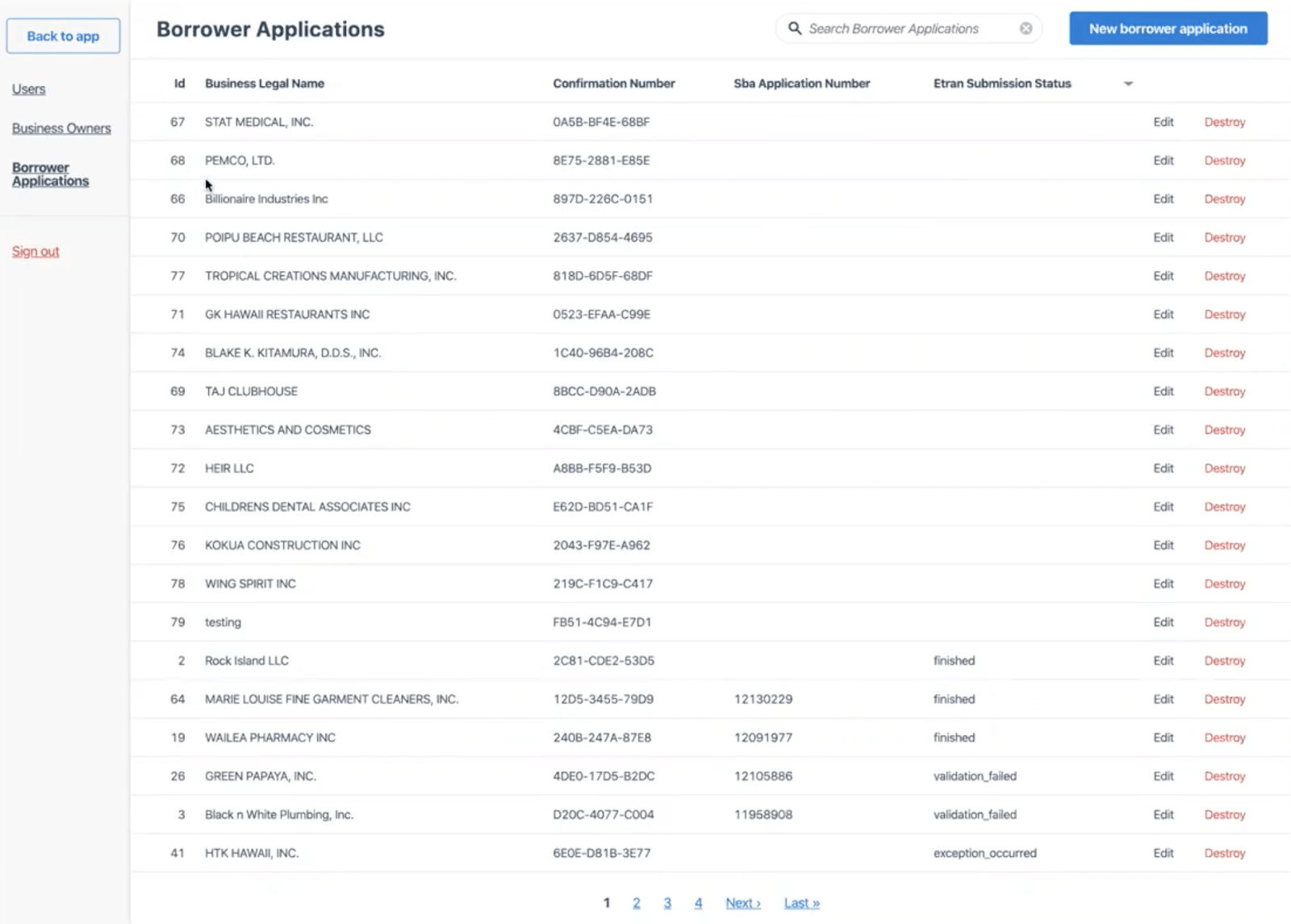 Once we have that, there's an administration portal that we've built where an employee of the bank can go in and they can see all of the borrower applications that have been submitted, and they can create new borrower applications if there are already applications that you've received, or if ones have been submitted online, they all come in through this particular portal.

Jumping into our specific application, I blanked out a lot of the PII here, but there's a button here to submit to E-Tran. What this will do is, after we've validated all of the information is accurate, we can submit this to E-Tran and, through robotic process automation, it will take that form and submit everything that's required in the E-Tran system, completely automated.

On completion we get — this is actually a screenshot from the FTA's portal —but you can see what the amount of the loan is, the fact that it was funded, what the loan number is, and then that, in turn, is shown inside of this portal so then your team can take that loan number from the SBA, put that into the system that's needed to process it, and move forward to a final funding of the loan and preparing those loan documents.
I'm sure there's a number of questions about this.
Brandon, do you want to speak to some of the architecture of this and any security things that you want to hit on?
Brandon Dewitt:
Yeah, absolutely. There's a couple of different levels of this. One, we built this to help the financial institutions that are, right now, finding their way to leveraging the SBA program and to help the small businesses in the United States be able to get through this time.
There's really two paths to be able to take advantage of this. One, for any financial institution that wants access, we're opening up the source code and you can run it royalty-free license. Feel free to run with it, change it to make it fit your needs, and go with that. We have plenty of folks that have gotten access to that source code and are just using either just the form or using the database or using just the robotic process automation.
The other side is that we do know that there are plenty of financial institutions that don't have the ability to host such an application or to work with the source code. And so if you need help with the hosting or with the actual maintenance of that, while we're open source in the software, we are needing to charge to maintain and support that, because we are spinning up dedicated environments for each of the institutions, as it's not built in a multitenant manner. There's a dedicated environment that we spin up for each institution that we are maintaining and supporting on behalf of.
Brandon Dewitt:
Reach out to somebody from MX if you want to pursue either of those paths. We have lots of folks that are working on the open source side. They are making this available and able to push it out to a higher scale, because, really, the goal here is to make sure that the most small businesses in our country can continue paying payroll. I think that we're all aligned towards that goal. That's the basis for what we're doing here. Anything else you wanted to cover, Brett?
Brett Allred:
Yeah. I know there's a couple of questions coming in and I'll answer those as we tie it in.
The solution does require you to have SBA credentials to the E-Tran system. We are using the institution's credentials in the robotic process automation to log in and fill out those forms dynamically, and so we will need a set of those credentials.
Brandon Dewitt:
I would say if you don't have your E-Tran credentials yet, you just need to keep hammering on the SBA to get that. If you haven't signed up for the new SBA portal, there's two portals, really processes, going on right now, and one is the classic SBA E-Tran portal. The other one is at connect.sba.gov, which is part of their partnership with Amazon that got solidified last weekend, in which Amazon is beginning to build out new APIs for the SBA platform to be able to submit these PPP loans in volume. That is still an endeavor that's underway.
I would definitely encourage you to go sign up at connect.sba.gov if you don't have credentials in E-Tran because it's kind of a dual path that we recommend that everybody be working on.
If you don't have credentials through E-Tran, unfortunately we have heard that the SBA is mostly not responding to inquiries or any help support right now. Even some of the largest institutions that we've been working with in automating this process, that are submitting tens of thousands of these applications, are getting a four to seven day wait time in terms of being able to even get on a 15 minute phone call with the SBA to figure out what the holdup on the credentials is.
There's a lot of stress and a lot of load on the system right now and, unfortunately, that is the current state of how the SBA has handled this. We certainly hope that it clears up and we hope that it clears up in the near-term future. We want to make sure that every institution is prepared to be able to take advantage of the opportunity that we all have to get this capital in the hands of the small business owners.
Brett Allred:
So, on that, Shayli, if you have questions we can start answering those now. I would say we know that time is of the essence here and that we're trying to get as many applications submitted as possible. Obviously, that's why we created this solution. We have done this in a way that getting up and running is extremely quick.
We have the security and different documentation that your team may need to vet this, but we know that it's really important to start getting these submitted and help those small businesses out. As you know, both of us haven't been small business owners. We know that this is really important to the small businesses, but not only to them, to the employees of the small businesses to keep them working and keep those businesses funded.
So Shayli, do you want to open it up to Q&A?
Webinar Q&A
Shayli Lones:
I do. Please, again, if you guys want to use the Q&A feature, use that feature at the bottom of your Zoom window. Let's go ahead and start at the top. Can you guys walk us through your tech stack? Another question we've been getting a lot of is what language was our code written in? Could you speak to that?
Brandon Dewitt:
Yeah, absolutely. Everything that we've written thus far is written in Ruby and Ruby On Rails, as far as the web framework. If you want access to the source code, you'll see that we've run it through static code analysis, both from the security perspective and also from the syntactic perspective.
So, again, feel free to submit, to whoever you're working with in MX, a GitHub username and we can actually give you access to that source code. But Ruby and Ruby On Rails was the fastest path that we saw towards launching the entire solution and making it available to as many as possible.
Shayli Lones:
Thanks, Brandon. Next one up. What tool is used to perform the RPA and is there a cost or a license required for that?
Brandon Dewitt:
There is no cost or license required for that. We actually use Chrome. You can actually put Chrome into a mode to where it is remote controlled, and this is something that is pretty common for debugging purposes.
But one of the things that we chose to do when the E-Tran API last week went down as a result of the PPP loans being added and they had not yet been added to the API, we chose to use the Chrome remote control path to in order to write a script to control Chrome, to log in, and be able to fill out all the data.
Now, from that perspective, we've been able to push loans into E-Tran, about one every 30 seconds to 45 seconds. It's not as fast as something like an API, but it's certainly faster than anyone that we've been able to speak to, that they've been able to get it in through the E-Tran system.
So, again, this is open sourced, and it's something that we wrote here internally, and we're giving away to you. If you want to update or change the scripts as you see them, or if you want to dig in and do something different, then you can actually dig into that code. It's pretty straightforward to follow, but it is leveraging just Chrome directly.
Shayli Lones:
Thank you. We have a couple of questions on accessing the code and next steps. Where can people go if they are ready to take these next steps?
Brandon Dewitt:
I'd say if you want to access the code... Shayli, I don't know if we have an email address for them to send that to you, but if you're working with an AEE or a CSC from MX, then just let them know and we'll get you access to that immediately.
One of the reasons that we haven't opened it up to the public yet is that, first and foremost, we want to make sure that financial institutions are the ones getting access to that code because there's lots and lots of folks out there that would obviously want access to what we're doing, but we want to make sure that it's first and foremost going to the financial institutions that are impacted by this program.
We want to make sure that you're getting that access to the code first. Let anybody from the MX team know and, I'll just tell you candidly, if you don't have anybody's email address from MX, then feel free to send an email to brandon@mx.com and I'll make sure you get routed the right way.
Shayli Lones:
And for those who want more information, we will share a website. It looks like it just went into the chat, so you can fill out that form there and we'll take you through the next steps of getting access.
Another question we have is if they don't want to host it themselves and MX hosts for them, what does setup time look like if they want to get up and running quickly?
Brandon Dewitt:
Yeah. Set up time for us on this is, as long as it's out of the box... We've been working with some very, very large institutions that have some custom fields that they need to capture for themselves internally, in terms of servicing. That has taken a little bit more time but, out of the box, we'll have an environment spun up in less than two hours, ready to be vetted and utilized.
Shayli Lones:
Thank you, and that's all the time we have questions for today. Thank you again, Brandon and Brett. Any last words?
Brandon Dewitt:
I think, at the end of the day, whether it's this solution or another solution, or if you need help or collaboration, please reach out. The most important thing for all of us is that we get as much capital as possible into the hands of small businesses because this is the payroll of so many individuals in the United States. As we're all trying to flatten the curve around coronavirus, we also need to be thinking about the next ripple, which is the wave of unemployment that we all foresee that we are going to have and we need to make that wave as small as possible.
That's a part of the endeavor that we're after here at MX and we just thank you all for being online and happy to engage however we can.
Brett Allred:
Yeah, I would just echo that and thank everybody for attending. Just let us know what we can do to help. We're here to help and make this happen for our country and for our economy. Thank you again.
Shayli Lones:
All right. Thank you, Brandon and Brett. As we mentioned, this was recorded and we will be sending it out to everybody that is registered.
If you want more information or to connect with our team, please visit mx.com/SBA and there's a form there that you can fill out to get started.
***
Additional FAQs
What is the Paycheck Protection Program?
In an effort to minimize the financial impact of Covid-19, the Small Business Administration (SBA) has designed a loan program to support and protect US Small Businesses. The loan terms and conditions are as follows:
No Collateral or Personal Guarantee

No Fees

1.00% Interest Rate

Loans are Fully Forgivable*

No Payments for 6 Months
*Loan amounts will be forgiven as long as:
The loan proceeds are used to cover payroll costs and most mortgage interest, rent, and utility costs over the 8-week period after the loan is made; and employee and compensation levels are maintained.
Is the Easy SBA Portal available to all financial institutions?
Yes, the open-source solution is for all banks and credit unions that are certified SBA lenders. MX is not currently making the code available to any other organizations to ensure that we start with institutions that have the highest demand first.
How is the information submitted to the SBA?
The information entered in the portal is submitted to the SBA's Capital Access Financial System (CAFS, also known as eTran), website using the financial institution's SBA credentials.
How do we get access to the portal?
You can request access from the MX team to begin implementing in one of two ways:
Set up the solution on your own at no cost to your institution without service from MX. The code will be made available to your team to begin hosting.

Work with our professional services team to build and host the solution.
Have there been any latency issues with the recent load on the SBA site?
Unfortunately, the latency is completely on the SBA side. We are not able to improve their capacity in processing these loan requests.
Our solution ensures the applicant has all the questions needed to submit a complete application. MX leverages the Certified SBA Lender's login for Capital Access Financial System (CAFS) which is the new "home" of eTran to submit the application. Once the automation script logs in, it then can transfer the data to the SBA system based on the application.
We are waiting for the option of a direct API, but that has proven to be unstable on the SBA side and is not yet available.
Is this available for fintechs?
Our open source solution is not currently available for fintechs.
What language is your code written in?
Ruby on Rails
Did MX build the RPA (Robotic Process Automation) that takes the data fields and inputs them into the SBA form on behalf of the bank?
Yes, MX built it.
Is this a type of integration?
No, because the SBA can't support an integration from an API perspective yet. We've gone with the next best thing, which is an automation script to log in and transfer the data from the application to the SBA portal for review.
What if we still haven't been able to get our eTran credentials from the SBA?
If you don't have those credentials yet, you will need to keep working with the SBA to get those.
Does MX keep any customer information?
In cases where MX hosts the environment, a single-tenant cloud-based database will be set up and accessible exclusively for that financial institution. Applicant data is completely managed through an administrative portal. Financial institution clients will have the ability to destroy (delete) applicant records as they see fit once it has been uploaded to the SBA system.
How does MX secure customer information?
MX runs regular security scans on the code and environment including regular, rigorous penetration testing. In addition, MX encrypts all applicant Personal Identifiable Information (PII) data within the database(s). Read more about security at MX.
How do we manage applications within the portal?
All applications that are submitted can be viewed in the portal. From there, your loan officers can complete the interactive applications and submit them to the SBA for review and approval.
Do we need to request a signature from applicants before submitting to the SBA?
Signatures can be captured digitally when an applicant submits their documents online. The SBA process does not require a "wet" signature to submit an application for review and approval.
Can we manage and maintain users/employees who have permission to process applications in the portal?
Yes, each institution will be able to create and remove users that they want to have access to the portal.
For more, please visit MX.com/sba.
Related Blog Posts