Blog
Back to Blog
Top Fast Food Restaurants During COVID-19
July 29, 2020
|
0 min read
Copied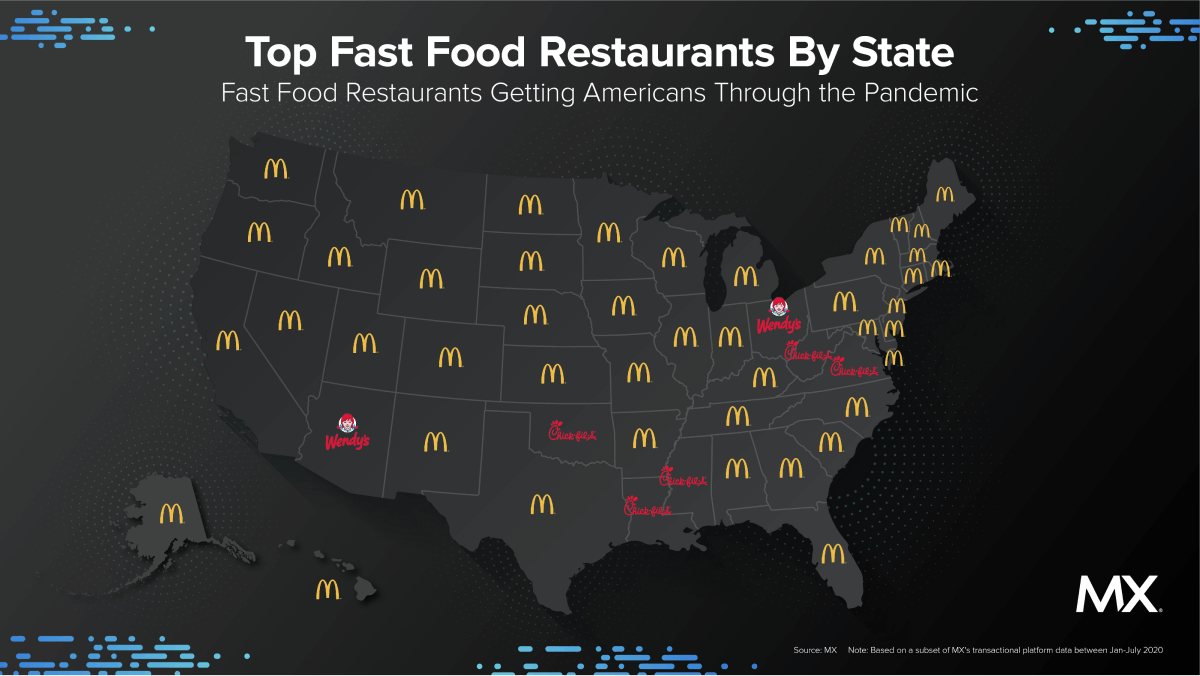 Think COVID-19 has changed our preferences for fast food? We analyzed data from more than 6M consumers' spending habits to find out. 
Americans love fast food and have frequented their favorite drive-thru restaurants throughout the COVID-19 restrictions. At the initial height of the pandemic, fast food transactions dipped by more than 45%; however, in the weeks and months since late March, transactions have exceeded pre-pandemic levels, increasing by more than 60%.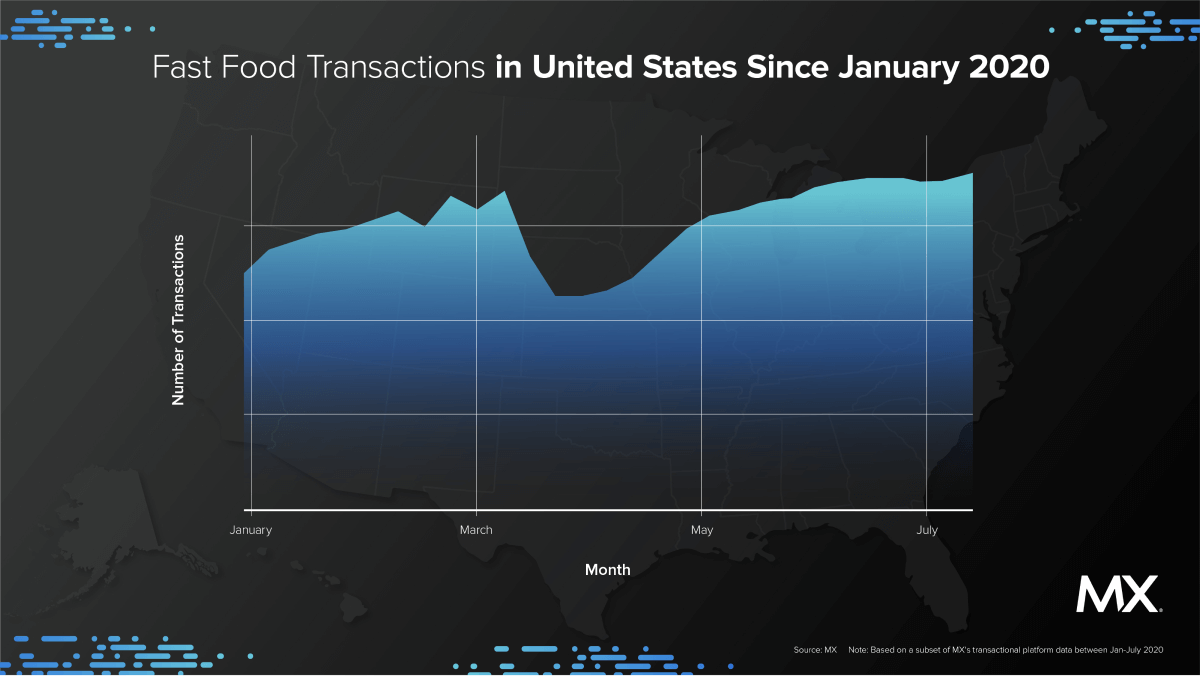 The average transaction at fast food restaurants has remained consistent at just over $14 throughout the pandemic. More than a third of Americans are taking in their fast food visits once a week, but many hit the drive-thru as much as 2-3 times a week.
Most Frequented Fast Food Restaurants In America
Through the early stages of COVID-19 in the U.S., and well into the pandemic, the most popular fast food chain in America is still (you guessed it) McDonald's. Whether people admit they're lovin' it or not, monthly spending habits show McDonald's as the most popular in 43 of the 50 states from January through mid-July 2020.
Top Fast Food Restaurants Per State
Five states — Oklahoma, Virginia, West Virginia, Mississippi, and Louisiana — ate more chikin', with Chick-fil-A as their No. 1 choice while Arizona and Ohio residents "know where it's real," ordering more from Wendy's than any other fast food restaurant.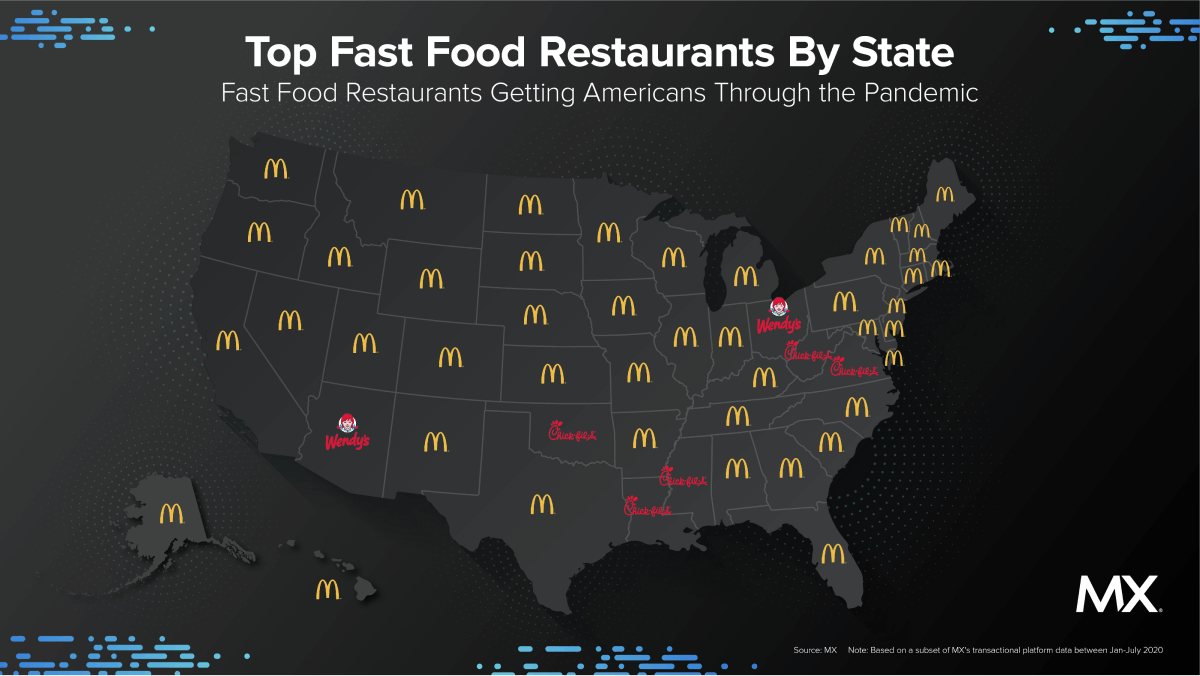 2nd Most Frequented Fast Food Restaurants By State
Americans are more divided on their second choice with Chick-fil-A leading the way in 15 states, Taco Bell in 8 states, and Wendy's in 7 states.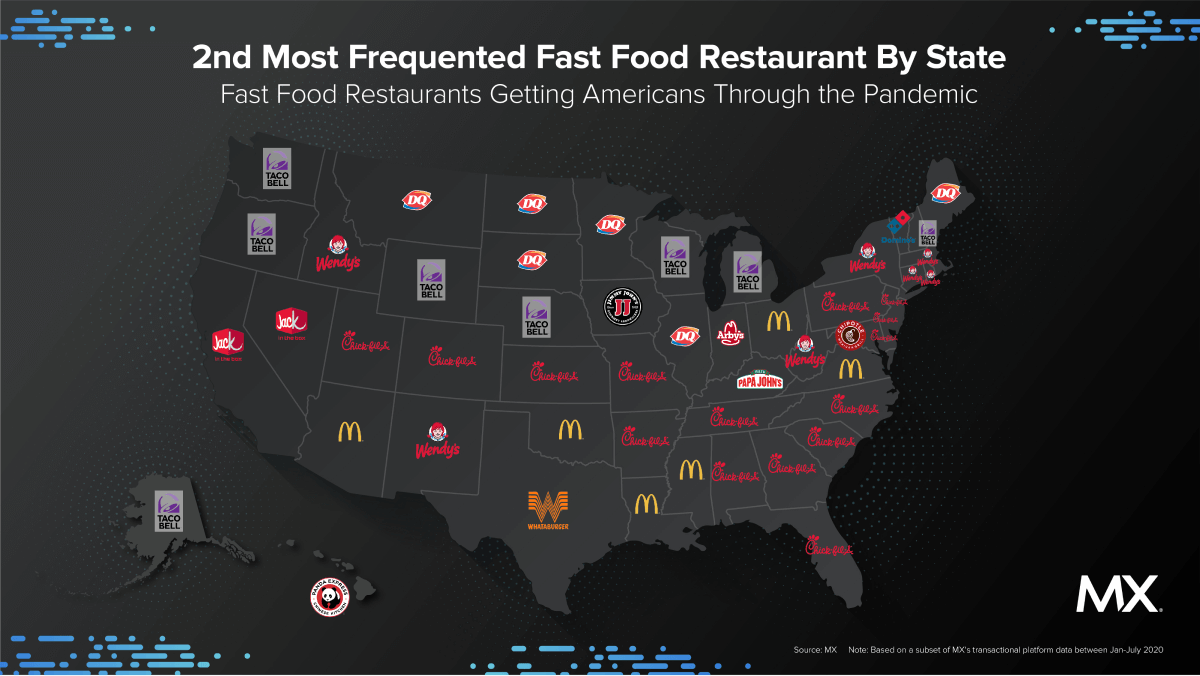 3rd Most Frequented Fast Food Restaurants By State
The map continues to welcome new options as we expand to the third choice for Americans, with regional favorites joining the list, including Popeyes, Bojangles, and Raising Cane's. Still, national favorites Taco Bell took 14 of 50 states, followed by Dairy Queen with 5 of 50 states, and Arby's, Chick-fil-A, Jimmy's Johns, and Wendy's with 4 of 50 states.
Which chains made the most top three lists? McDonald's made the top three list for all 50 states and Washington D.C., followed by Chick-fil-A (24 states) and Taco Bell (22 states), with more transactions across the U.S. than any other fast food restaurants. Meanwhile, both Wendy's and Dairy Queen are attempting an underdog run, making the top 3 in 13 and 11 states respectively.
MX helps turn data into insights for more than 2,000 financial institutions, 43 of the top 50 digital banking providers, and 30+ million consumers. To learn more, visit:
www.mx.com
Related Blog Posts