Blog
Back to Blog
User Experience at Banks: What Consumers Want, According to Data
May 26, 2020
|
0 min read
Copied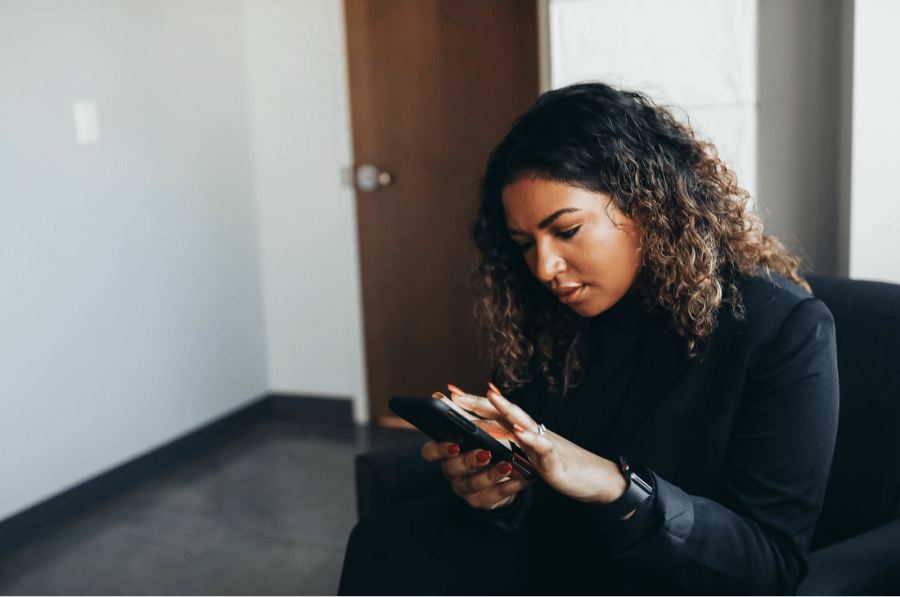 When it comes to user experience, financial services companies have made enormous improvements in the past decade. The Qualtrics XM Institute surveyed more than 10,000 US consumers and found that the banking industry "has improved their benchmark rating more than any other industry," rising from 11th place to 3rd place of the 20 different industries Qualtrics surveyed over the past nine years. 
This finding is also supported by research from Cornerstone Advisor Ron Shevlin, wherein he shows that of all the people in the US who opened an account with a challenger bank, "just 2% did so because they didn't like their current bank." This might be surprising, given the animosity people expressed toward the banking industry in the wake of the 2008 financial crisis, but it seems that people today generally like their primary bank (or at the very least don't feel enough animosity to switch).
Still, there's a long way to go to fully optimize the user experience in banking. Traditional lenders can't risk complacency, since millions of people have opened bank accounts with digital banks such as Wealthfront, N26, Monzo, MoneyLion, and Chime to enjoy the benefits of better money management tools, higher savings rates, easier loan processing, and more.
To more fully understand the state of user experience in banking, we surveyed more than 1,000 random people in the United States, comparing the data to a similar survey we created in 2015 so we could map industry trends.
We published the results in the Ultimate Guide to User Experience, which you can download for free.
Here's a taste of our findings:
What Consumers Are Saying
We asked people which is more important to them: A simple and easy digital experience, or a friendly and helpful staff. In both cases (2015 and 2020), people overwhelmingly — by a factor of more than 2 to 1 — said they preferred a simple and easy digital experience.
However, perhaps surprisingly, the number of people saying they prefer a friendly and helpful staff rose slightly, from 29% in 2015 to 32% in 2020. It's clear, in other words, that even with the best digital technology on hand, you can't afford to disregard the human touch. People still want to connect to other people as part of a stellar user experience.

We also found that people are less frustrated with mobile banking since 2015 —and that mobile usage has sharply increased. Specifically, the percentage of people who say they're almost never frustrated with their mobile banking experience rose from 55% in 2015 to 66% in 2020, and those who say they use mobile banking rose from 86% to 96% in just five years</b >.
Given that nearly 100% of the population now is now a mobile banking user, it makes more sense than ever before to invest heavily in getting mobile right.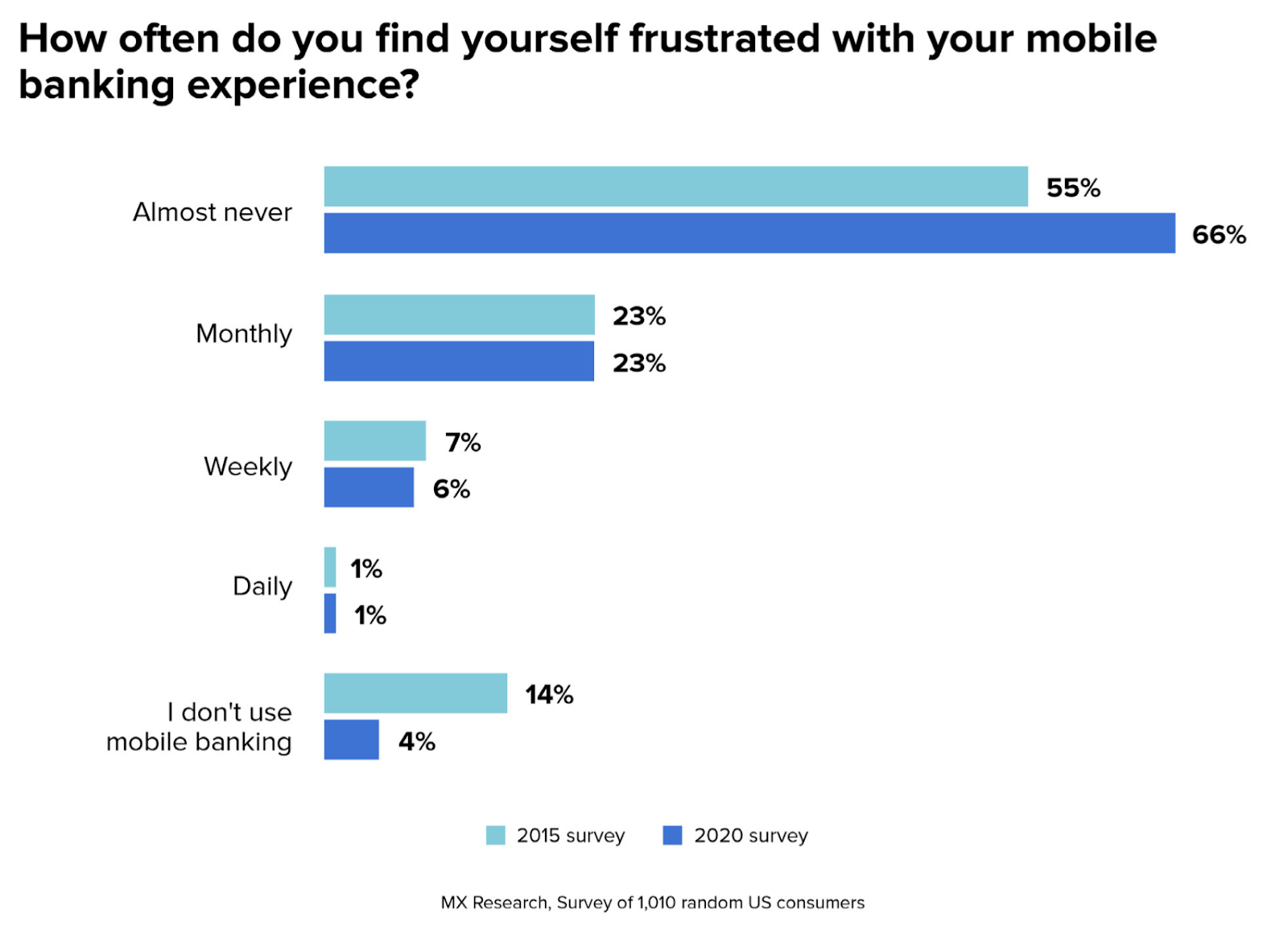 Those who say they've stopped using a mobile banking app because of a poor experience remained more or less constant, with 28% saying they had in 2015 and 29% saying they had in 2020.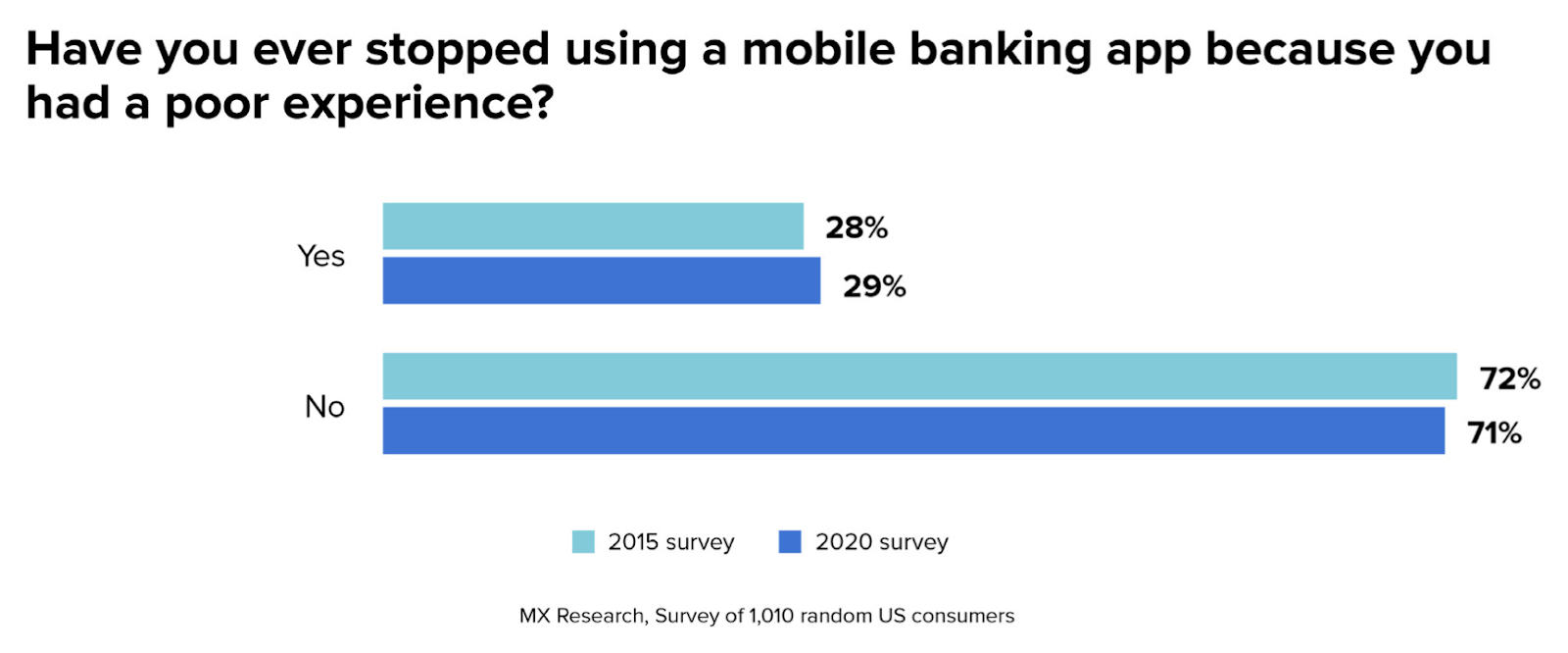 The question here is whether your organization is one of those whose users have stopped using your app, or whether your organization is one of those whose users have stayed. To find a quick clue, look at your app ratings. Are they higher than 4.5? You're probably doing well on this front. Are they less than 3? You're likely one of the organizations people are fleeing from.
Taken together, the state of user experience at financial services companies is clear: Things have improved over the past few years, but there's still a long way to go — especially for those institutions lagging behind in mobile. In fact, if you're not a clear leader in digital, you can see why you're at risk to companies that are. People are distancing themselves from companies that don't offer an ideal user experience.
To see the simple steps you should follow to thrive on this front, download the Ultimate Guide to User Experience.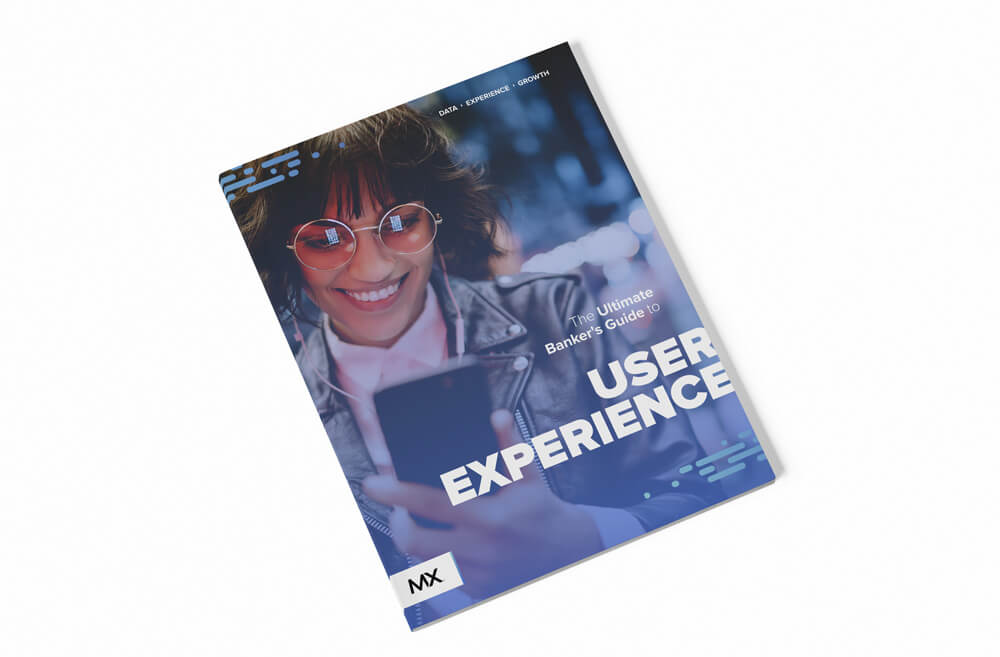 Related Blog Posts