News
Back to News
MX Promotes Tech Industry in Utah as Title Plus Sponsor of Silicon Slopes Summit
January 23, 2020
|
0 min read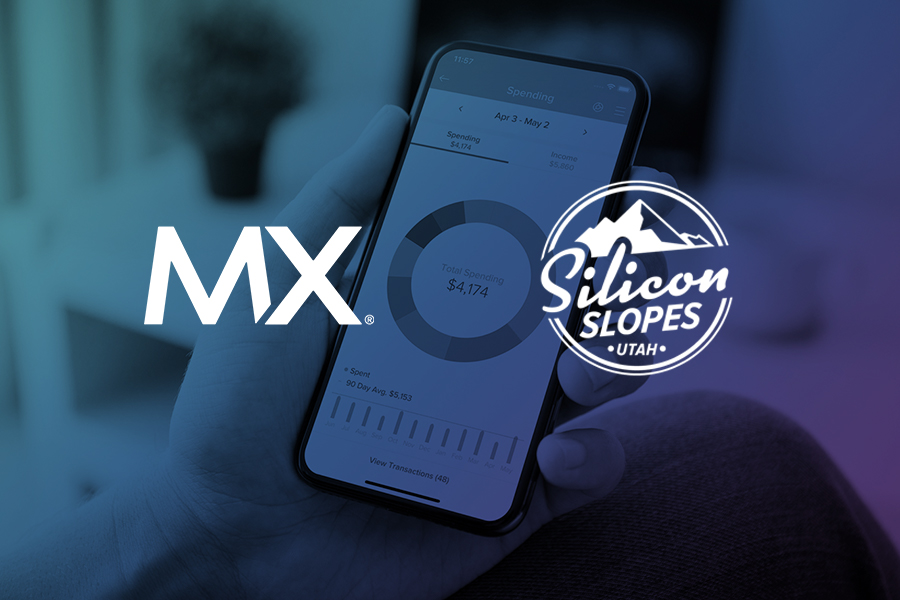 MX Promotes Tech Industry in Utah as Title Plus Sponsor of Silicon Slopes Summit
Founder and CEO Ryan Caldwell to present Friday; Cofounder and CTO Brandon Dewitt to speak on Fintech panel Thursday
SILICON SLOPES, UT – January 24, 2020 – MX, the leading digital transformation platform for banks, credit unions, fintechs and partners, today announced it will be a Title Plus Sponsor of the Silicon Slopes Tech Summit 2020, to be held Jan. 30-31 in the Salt Palace in downtown Salt Lake City. Ryan Caldwell, founder and CEO of MX, will speak Friday at 3:15 (Cybersecurity & A.I. track) on "The Power of AI and How it Impacts Your Financial Future."
"We're extremely honored to be a top sponsor and promoter of Silicon Slopes and to be right in the center of the growth of tech in Utah," said Brandon Woolf, EVP of People Operations at MX. "Not only are we proud of what we've accomplished as a company these past ten years, alongside many of our technology neighbors here in Utah, but MX is excited to be at the forefront of the financial industry's digital transformation that is blessing the lives of millions of people financially. And we're just getting started."
2019 was the most significant in MX company history. Milestones included surpassing 30 million end users on its platform, expanding to over 2,000 customers, and strengthening partnerships with 43 of the top 50 digital banking providers. In June MX created industry buzz when it secured $100 million in Series B funding, bringing the company's total equity financing to $175 million. Called a "quiet giant in fintech" in a recent TechCrunch feature story, MX has more than doubled its employee count in the past 18 months and is currently hiring at a faster rate than any other time in company history.
Brandon Dewitt, cofounder the Chief Technology Officer of MX, will speak on Thursday at 2:00 (Fintech track) on a panel with the Chief Digital Officer of US Bank and the CEO of Galileo Financial Technologies discussing "How Utah Became a Fintech Hotbed."
"Yes, our company is doing incredibly well right now, but we are also on a mission to help the entire Silicon Slopes corridor to elevate our thinking, because the end goal is to improve people's lives," said Dewitt. "The human endeavor is an ever-increasing pie, and the more we do to increase that pie, the more we push the cutting edge of what can be done and the lives we can bless. And that's when we all win."
As a mission driven organization focused on empowering the world to be financially strong, MX is working closer than ever with financial institution customers, partners and regulatory organizations to set the standard for financial data governance that will influence the way the individuals spend, save, invest and plan for future generations to come.
About MX
MX is the leading digital transformation platform for banks, credit unions, fintechs and partners, built on the belief that transformational growth starts with making data easily accessible and actionable for financial institutions. Founded in 2010, MX is one of the fastest growing fintech innovators, powering more than 2,000 financial institutions and 43 of the top 50 digital banking providers to improve the financial lives of more than 30 million people. To learn more, visit www.mx.com
About Silicon Slopes
Silicon Slopes Tech Summit is a globally recognized two-day summit organized and hosted by the Silicon Slopes organization and community. With some of the most prominent and leading minds in the tech industry taking stage, Silicon Slopes Tech Summit is one of the largest and most prominent annual tech events in the world, bringing out more than 20,000 attendees. For more information visit www.siliconslopessummit.com