Introduction: The Urgency of Transformation
Unlike anything in recent decades, Covid-19 sparked an inflection point across the banking industry. Within weeks, deposits at the largest banks ballooned by more than $1 trillion, offices went empty, remote work became widely acceptable, drive-through banking made a comeback, and the primary reliance on digital services was swift and decisive. Take one example: Citi experienced an 84% increase in mobile deposits and a 10x boom in Apple Pay usage in the wake of the crisis. In light of this data, Jane Fraser, president of Citi and CEO of Global Consumer Banking, says, "Banking has changed irrevocably as a result of the pandemic. The pivot to digital has been supercharged."
This pivot to digital is reflected in data from US agencies, which found that mobile engagement increased by 50% from January 2020 to May 2020 — a trend that mirrors what we've seen from anonymized users on the MX platform. We've also seen that 80% of US consumers already used mobile banking at least weekly before the crisis.  
All of this indicates a shift in the way people think about what banking means. On this note, McKinsey Research has shown that people in the United States say they are far more likely to increase online and mobile banking compared to banking via branch, phone, or video chat as a result of this crisis.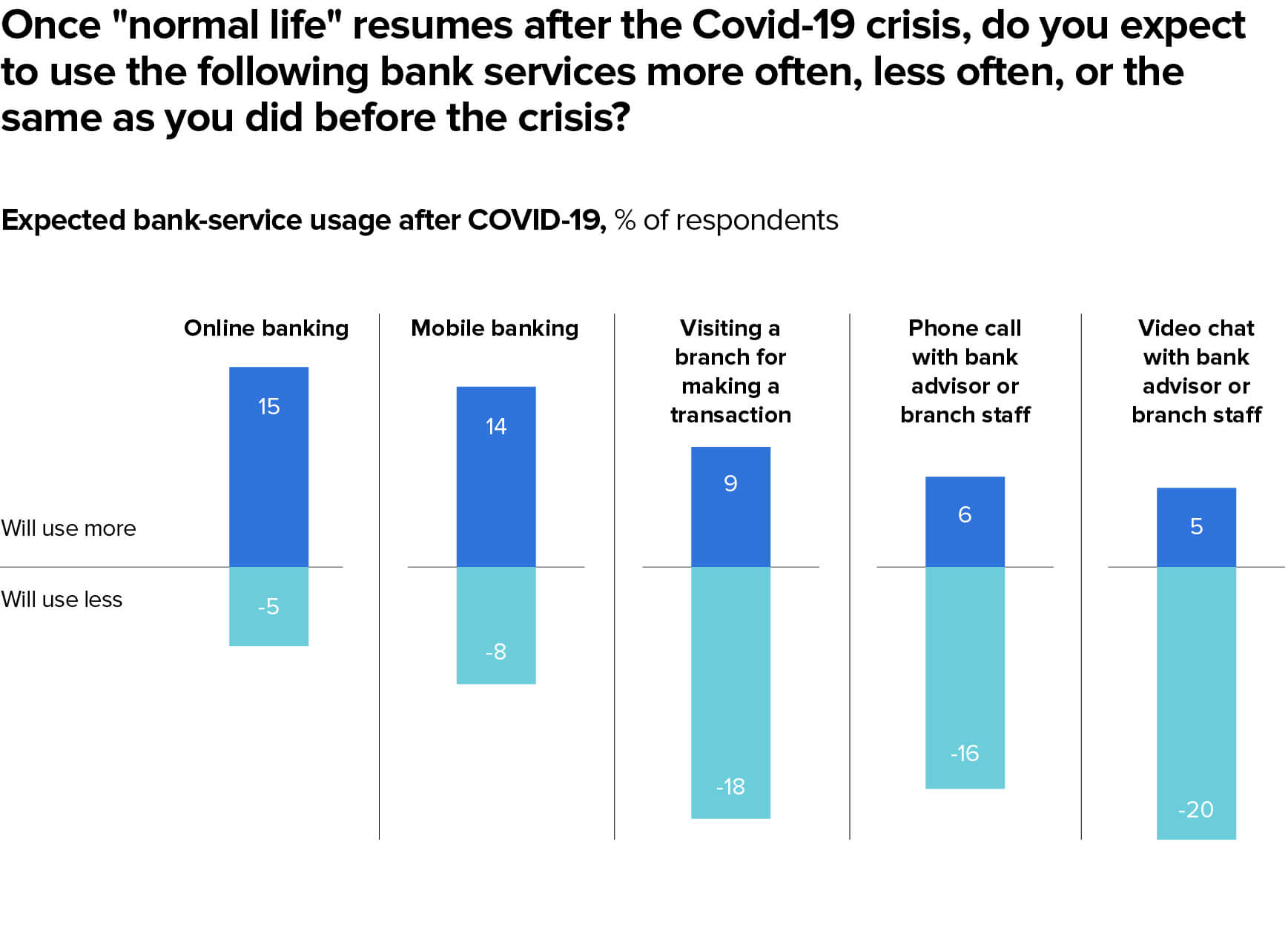 In a similar survey, we asked more than 1,000 US consumers whether they plan to continue going into their local bank or credit union branch as often as they used to. While 64% said they would, 36% said they weren't planning on it.

MX Research, Survey of 1,000+ Random U.S. Consumers
One more: In the first six months of 2020, Cornerstone Advisors saw a 67% increase in the number of consumers who say that they consider a digital bank such as Chime, Dave, or Varo to be their primary bank.
These sentiments almost certainly represent a sustained shift toward increased digital banking use and not just a passing trend. As Parker Conrad, Rippling's co-founder and chief executive, asks, "Who wants to go back to filling out insurance paperwork with a pen and trying to find a fax machine? No one." Likewise, as more people realize how many of their typical banking processes they can do via a digital device, the desire to return to physical methods (such as signing a bunch of paperwork) will diminish. It's no wonder that the global research team at CACI estimates that by 2022, 88% of all interactions at banks will be mobile.
More than anything, Covid-19 has made digital transformation urgent. Organizations feel the pressure to offer widespread digital access and ensure that people can onboard digitally for every product they offer — pressure made more real by the fact that only 56% of financial institutions currently give their customers the option to onboard digitally.
To get a sense of how financial services companies are doing right now, we asked US consumers whether they're more satisfied or less satisfied with their primary financial institution since Covid-19 restrictions went into play. While 59% say there has been no change, 25% say they are less satisfied.

MX Research, Survey of 1,000+ Random U.S. Consumers
So, how do you make sure you're on the side of those who are more satisfied? How do you proceed in the new world of banking?
In this ultimate guide, we explore seven things you should consider if you want to thrive in this new world.
Prioritize human-centered experiences.
As you implement new digital initiatives, it's critical to keep human beings top of mind at every step. After all, digital isn't primarily about creating a trendy brand identity or about keeping up for the sake of keeping up. Instead, it's primarily about finding the right technology to help human beings. This is the key to driving up long-term loyalty for your business.
It's something that's easy to lose sight of in the rush to make banking fully digital. As Bradley Leimer, Co-founder of Unconventional Ventures, says, "banks need to make customer lifetime value actually translate to a lifetime value from the financial provider — not the other way around." He adds, "With long-term advocacy programs, the incentives of financial institutions will be aligned with the incentives of account holders, and long-term relationships can develop."
This move requires getting frequent feedback from prospects and customers. Yemi Rose, Founder and CEO at OfColor, says, "When you put products in the world and you don't have conversations with customers, you might be surprised at the little things that turn them off or silently signal that it's not for them." Lucy Marcil, a financial innovator and TED Fellow, echoes Rose's sentiment, saying that humanizing the experience requires "treating people like high-quality human beings because that's what everyone needs and deserves."
The way forward, then, is to instill a culture across your entire organization that recognizes that every customer is worthy of dignity. From there you might map which of your customers' current pain points are most urgent to address alongside the ones that you can most quickly and easily address. The specifics will differ from company to company and from customer to customer, but the principle is the same. Focus on urgency, speed, and ease —all with the end user in mind.
Plan for an ongoing hybrid of remote and in-office work.
As Covid-19 shut down offices around the world, video chat and asynchronous communication became commonplace. People realized that they didn't necessarily have to stop by a team member's desk to get things done and could instead shoot off a quick text or voice message to be read or listened to at the convenience of the receiver.
To figure out how to best move forward with a hybrid of remote and in-office work, first create an internal survey to identify how team morale has changed during quarantine. Map these survey results with quarterly data on internal productivity, ensuring that reality aligns with perception. Then identify which positions are most effective as remote, in-office, or as a hybrid. Finally, remake the in-office setup so that those who must work in the office can spread out as much as possible while those who can work remotely can stay remote.
To illustrate how this new world of banking can be effective, consider that when the PPP loan program was announced, many banks rolled up corresponding mobile apps and web pages in a matter of days. Most importantly, they often moved at this speed without being in the same room. It's proof not only of what's possible, but what is most effective. As Ryan Caldwell, Founder and CEO at MX, says, "If you haven't adjusted to asynchronous digital execution, that's going to put you at a competitive disadvantage."
This trend toward remote work also has implications for transitioning away from traditional banking and technology hubs. For years, tech campuses at Bank of America, Deutsche Bank, Wells Fargo, and Citi have risen in rural areas that might not otherwise be considered hotspots of tech talent —a trend that will almost certainly become more pronounced. "The reality," says Sam Maule, Managing Partner at 11:FS, "is that the internet works just as well in Iowa as it does in San Francisco."
The effects of Covid-19 are also upended industry events. For instance, in July of 2020 Finovate announced they were shifting to a digital experience for the foreseeable future. "This isn't a temporary shift," writes Greg Palmer, VP of Finovate. "This is a first step towards a new future, and we're taking the transition very seriously. We had already been working on making our events more digitally accessible, and in the past three months, we've spent massive amounts of time vetting and comparing dozens of new solutions."
Finally, as remote banking becomes the norm, consider consolidating branches where possible, especially in places where branches now see little to no traffic. McKinsey estimates that the US could see branches per 100,000 residents drop from ~35 to ~20, in line with current levels in Canada and the UK.
Put simply, remote work will continue to affect banking at every level. Plan for that reality now.
Understand data trends in real time.
To get a clear sense about how to best move into the new world of banking, it's critical to have dynamic access to data. Unfortunately, when we surveyed 154 employees at banks and credit unions and asked them to describe their organization when it comes to data optimization, only 2% of respondents said they are leading the way.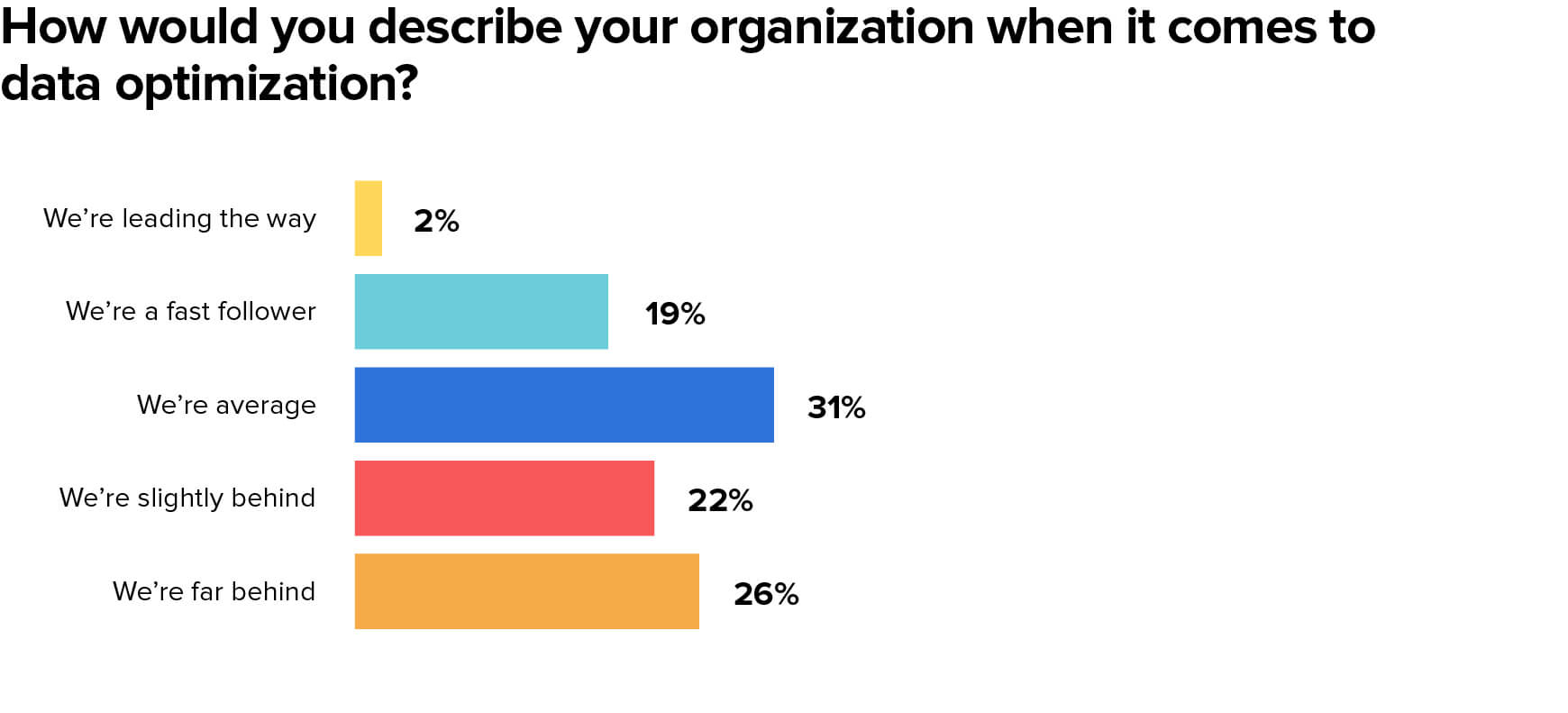 MX Research, Survey of 1,000+ Random U.S. Consumers
On one hand, this is bad news because it means that many employees in banking feel hopeless when it comes to data. On the other hand, it also means that people who feel they are behind should realize it's within the realm of possibility to lead on this front. (After all, almost no one else is!)
One way to lead out on data optimization is to start with cleansing and categorizing the data you have on hand. On this front, MX cleanses and categorizes transaction data to give insights to our clients so they can know spending trends in real time. For instance, we saw total spending on air travel plummet by roughly 70% in mid-March 2020.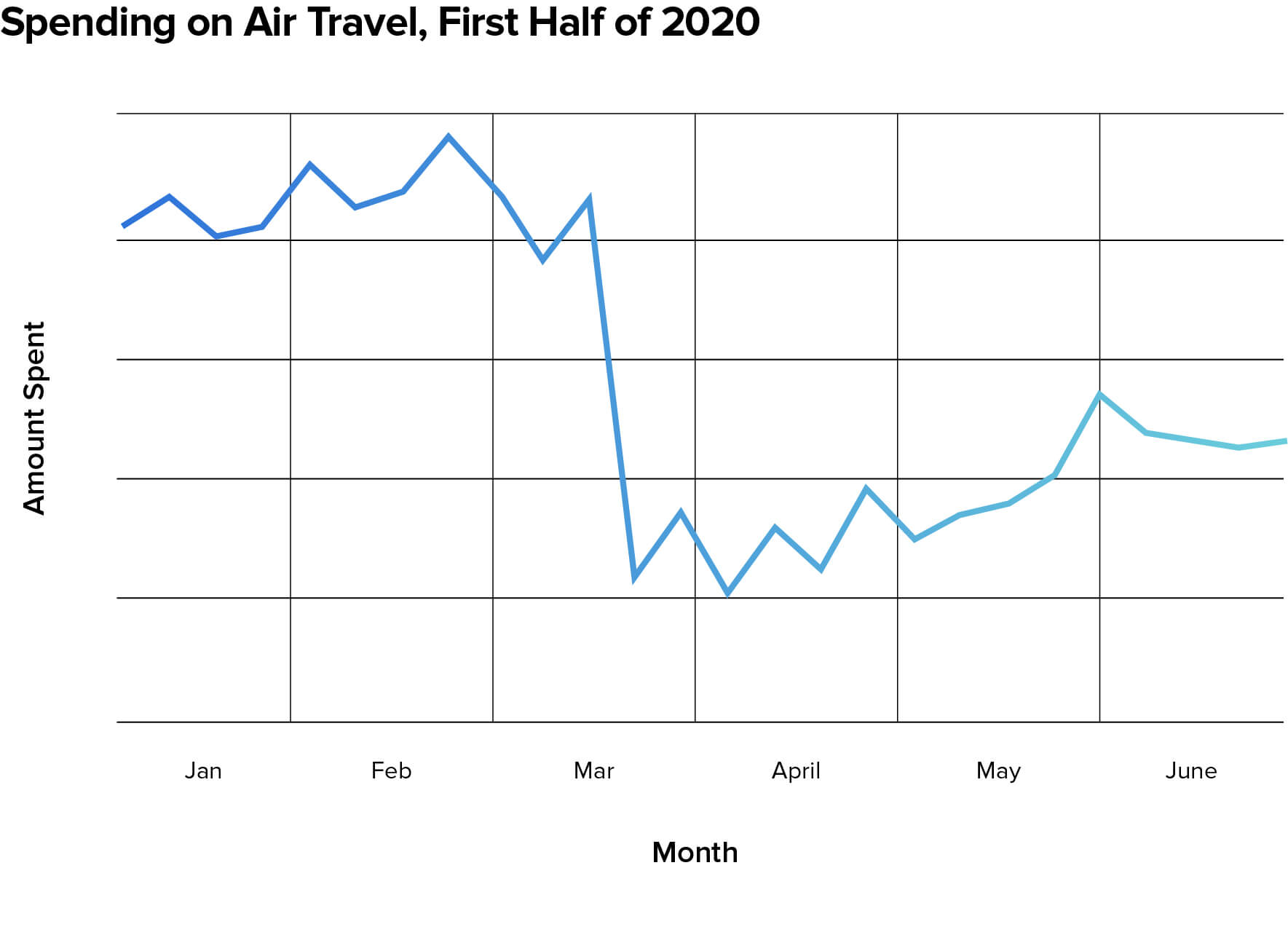 MX Research, Survey of 1,000+ Random U.S. Consumers
Other spending categories saw a smaller drop in March with a moderate recovery — likely helped by stimulus money.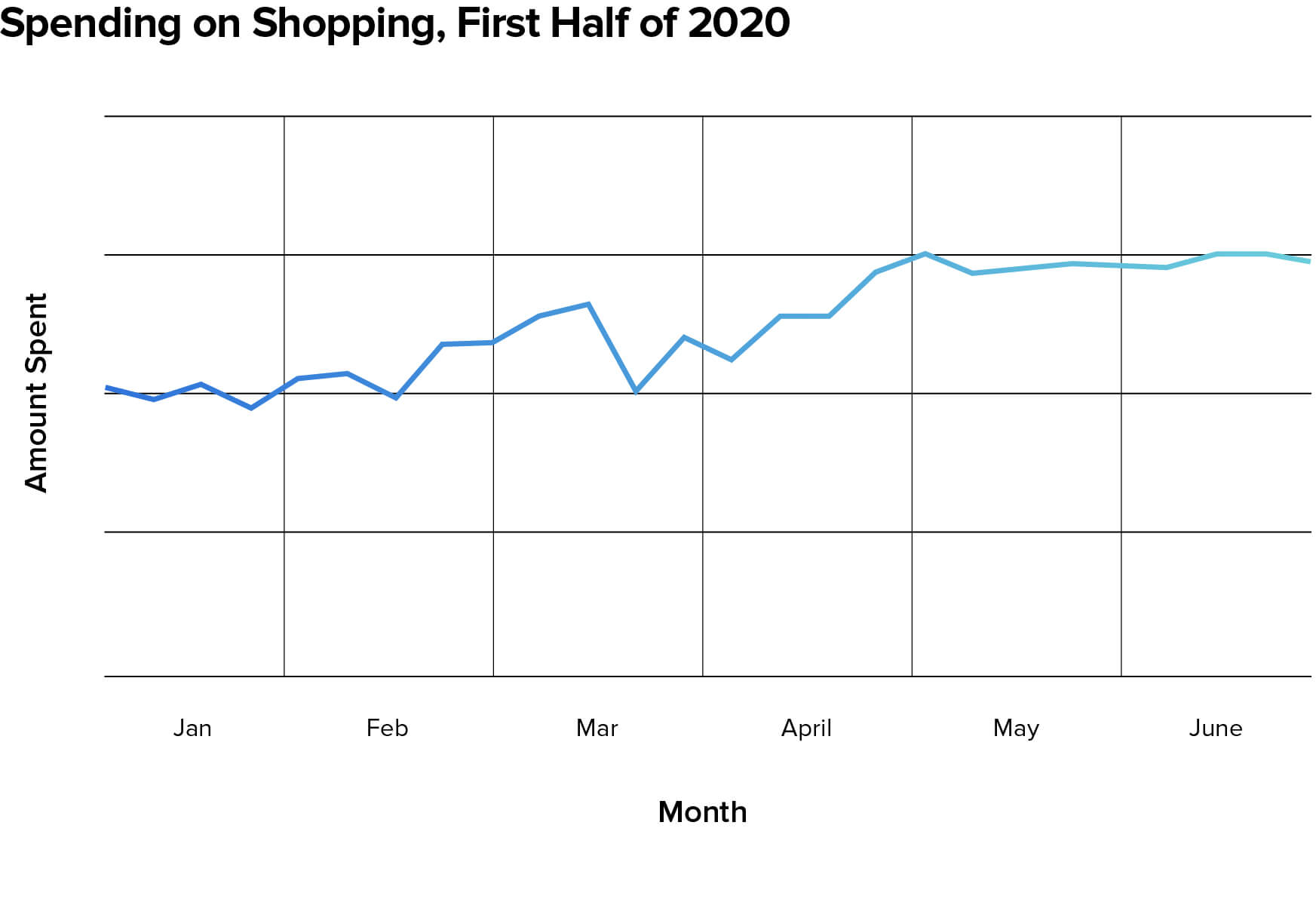 MX Internal Data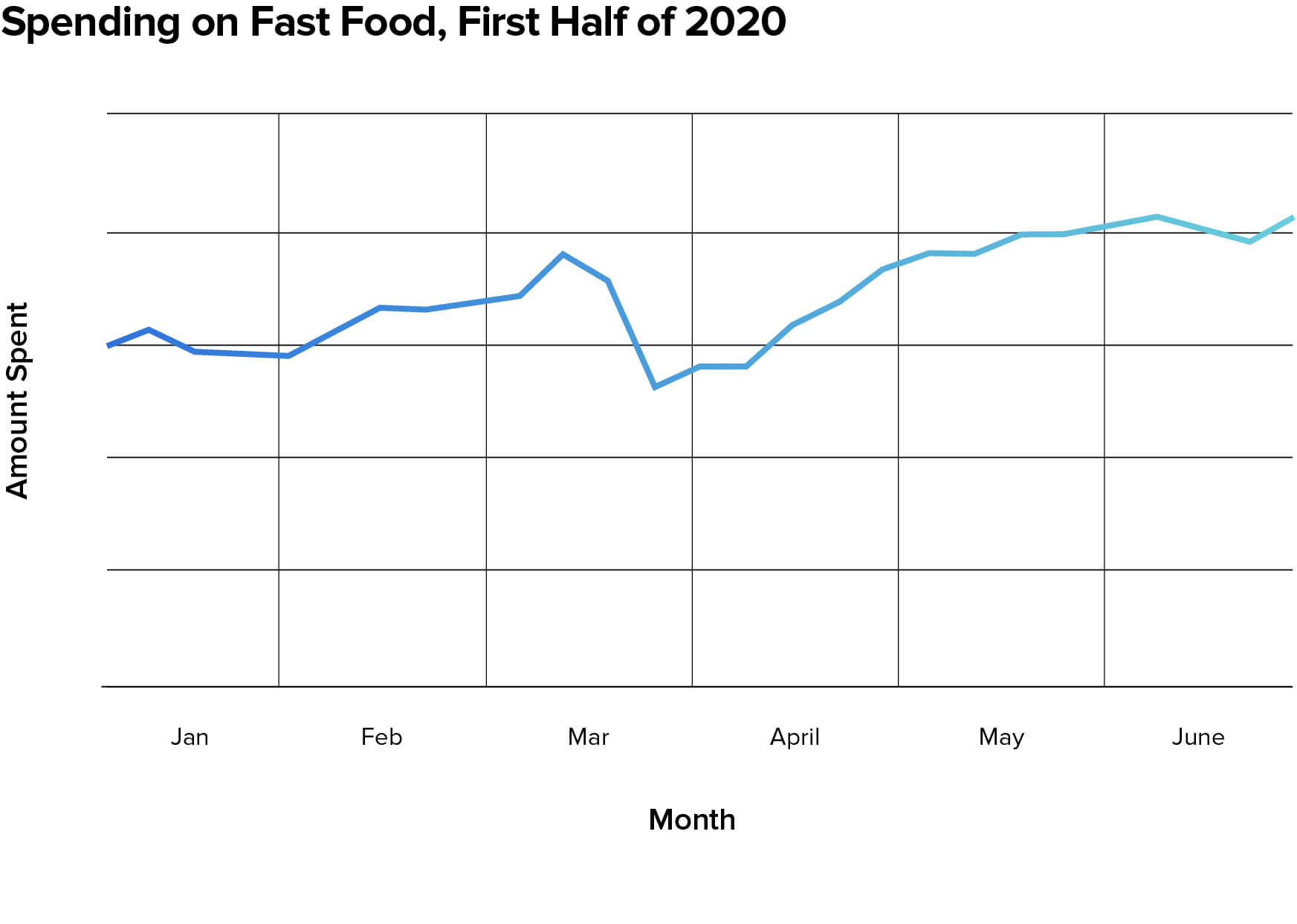 MX Internal Data
Knowing these trends in real time can have big implications on banking strategies —especially strategies around business loans and financial guidance. The truth is that you can only really help your customers to the extent that you understand their financial situation. Of course, your ability to dynamically access this data hinges on the extent to which it's clean and categorized.
Guide your users to financial strength.
As people continue to feel nervous about visiting a financial advisor in person because of Covid-19, they're increasingly turning to digital technology to get the job done. Even more importantly, they're realizing that personalized financial automation is inexpensive and can be more effective at asset allocation compared to hiring human advisors.
In some sense, personalized financial automation is akin to GPS technology, which uses a wide range of data points to guide people to their destination. Likewise, with aggregated and enhanced data, financial services companies can now reference multiple databases at once to show customers how to safely get from where they are today to where they want to go tomorrow, no matter where that might be. And with contemporary machine learning and artificial intelligence, digital assistants can now give nudges that are personalized for each customer, making financial data more useful than ever.
Another analogy here is modern cars, which have implemented a range of safety features, including airbags, seatbelts, sensors, and self-driving options — all of which enable people to drive faster. The same trend will increasingly happen in banking as people reap the benefits of personalized financial automation, including real-time guidance.
Of course, all of these abilities hinge on the power of the data behind the scenes as well as the capacity for customers to easily and reliably gather data into a single view,a feature that 90% of people say is or would be valuable.

MX Research, Survey of 1,000+ Random U.S. Consumers
In addition to personalized financial automation, you might create content for customers who struggle with the financial effects of Covid-19, including unemployment, loss of income, and falling behind on payments. Make a hotline for customers who need extended help and consider more lenient policies around missing and delayed payments, late fees, and overdraft charges. Finally, you can communicate to your team that your organization exists to serve your customers, and that they should do what best helps customers during this financial crisis.
Being financially literate doesn't magically make people's finances fall in line. There are, however, critical components that go beyond financial literacy focused on human-centered experiences and products that will lead to better outcomes. On this front, Lucy Marcil says that one way to focus on human-centered experiences here is by "automating things for people as much as possible." She adds, "If there's a way that a bank can make it easy for someone to make things recurring, or sign up and not think about it, it can go a long way. Coaching can be important from a strength based idea: people have goals and might need a little bit of advice to help get there." She also states that it's important to "recognize that in underserved communities, people have the same hopes and dreams that you do, and if you can tap into that and empower them, you will have loyal customers for life." This is the power of personalized financial automation.
Use data to create personalized offers.
With the right data on hand, you can also create personalized offers for your customers, giving them the ability to see products and services that are best for them such as a car loan at a lower rate than the one they currently have.
This ability has the benefit of being mutually advantageous for both you and your customers, as it creates a data flywheel along the lines of companies such as Netflix and Amazon — companies that use data to optimize the experience they offer and then use that improved experience to draw in more users,resulting in more data, which in turn leads to an improved experience.
To do this well, you must first adopt a culture that values data analytics, and then adopt technology that puts that data to use. As Yemi Rose says, "Technology allows us to micro target for specific needs. If you're not going small and wide right now you're ripe for disruptive technology."
Importantly, this isn't something that customers are apathetic about. To the contrary, they want to know when you can give them a better deal than they currently have.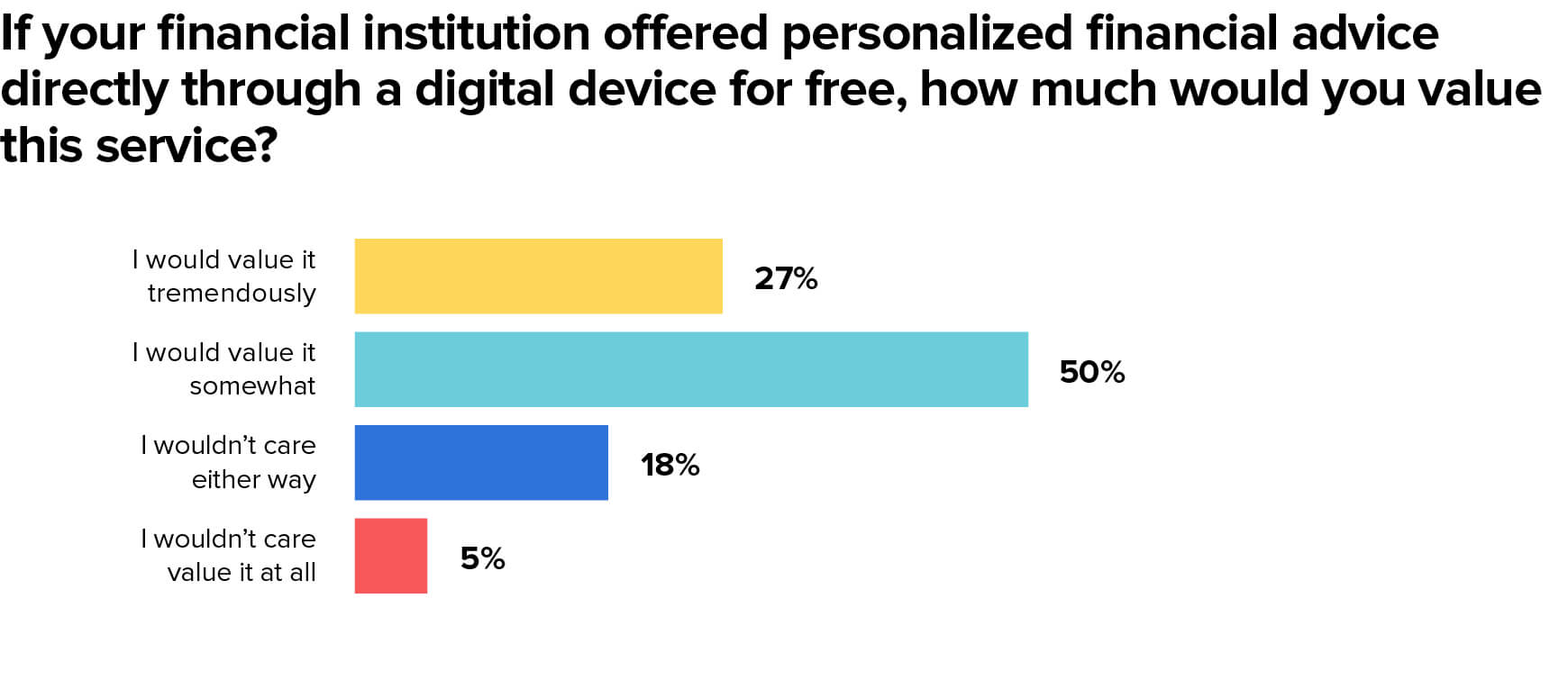 MX Research, Survey of 1,000+ Random U.S. Consumers
Partly because the demand is so high, Daniel Rosen, Founder and General Partner at Commerce Ventures, believes that the "next generation of financial services capabilities and consumer experiences are going to fundamentally be digital and automated. They're going to make inferences based on the data that they can access and take action." This is an essential strategy to nail down in the new world of banking.
Experiment and build something new.
While the changes brought on by Covid-19 might feel paralyzing, now is not the time to stall. As Ron Shevlin, Forbes contributor and analyst at Cornerstone Advisors, says, "Banks will need to accelerate their investments in fintech to achieve both the top line increases and expense reductions needed to maintain margins and profitability." He adds, "The prospects for fintech startups have never been better — especially for those looking for banks as customers."
Brandon Dewitt, CTO at MX, echoes this sentiment. "This is a good environment to go and build something new," he says. "Pain from the economic downturn manifests problems that can be solved. And there are problems everywhere in the system. There's a lot of pain in the economy right now, and it's becoming so acute. There's no time like now to launch a company. We might not see a cycle like this for another 10 years."
It's clear that major tech companies have already made inroads on this front in recent years. Google hired former Citi executive Yolanda Piazza as well as former PayPal executive Bill Ready. Facebook hired former PayPal president David Marcus and PayPal hired former Amex executive Dan Shulman. In addition, Goldman Sachs has partnered with Amazon in a move that Ron Shevlin calls "a wake-up call for banks."
At the same time that tech companies make inroads into banking, Covid-19 has led many people to explore fintech options, with 30% saying that restrictions around Covid-19 have made them more likely to use a banking service from a fintech company and 9% saying these restrictions have made them far more likely to do so.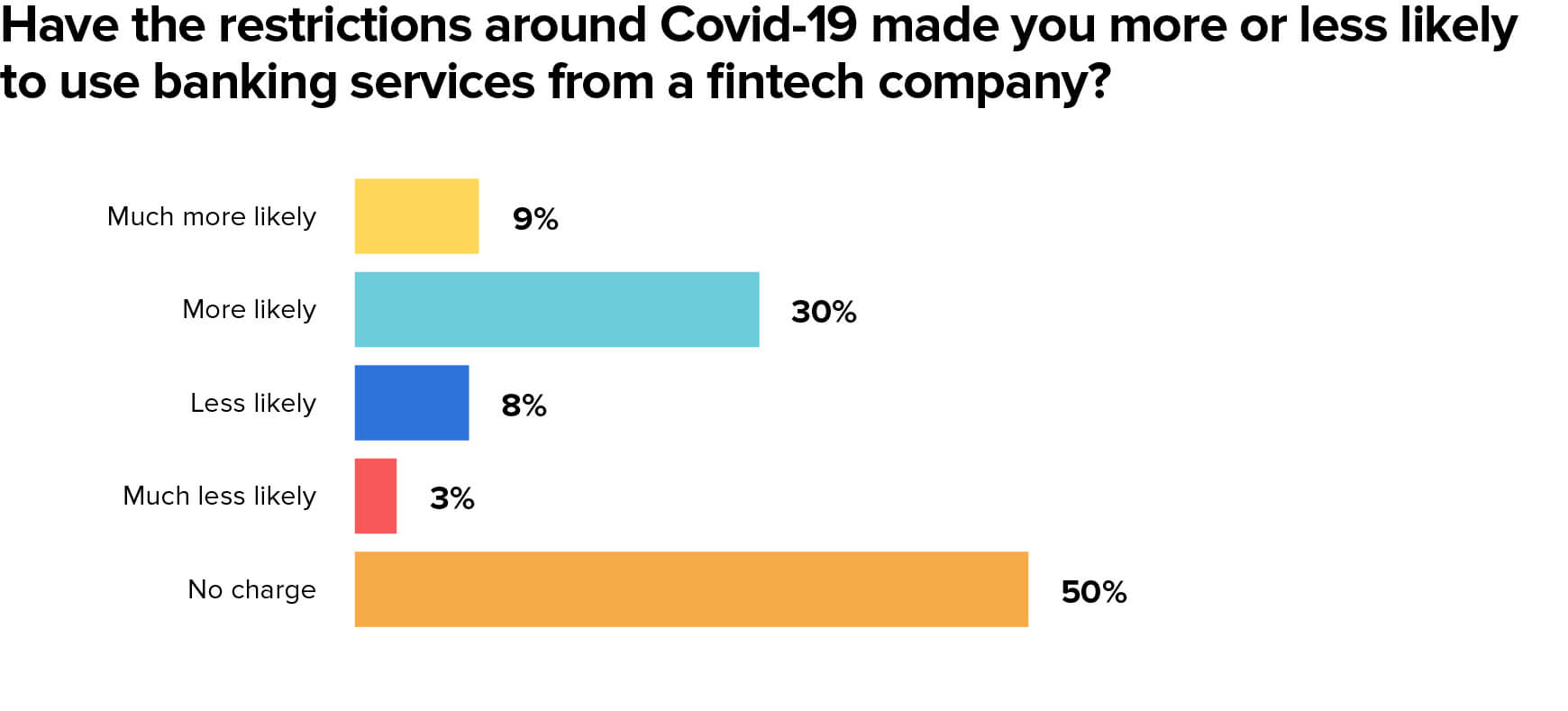 MX Research, Survey of 1,000+ Random U.S. Consumers

MX Research, Survey of 1,000+ Random U.S. Consumers
For his part, Sam Maule says that banks can't afford to be complacent here because the future will almost certainly unfold in ways that bankers can't anticipate. He shares how Google Wallet was thought of by many as a failed product, but that in reality it has thrived in the multi-billion dollar video game market. "I've talked about Twitch on stage a couple of times," says Maule, "and I've looked at the audience from the financial services space and I've just seen blank stares. I'm like, 'Folks, you don't know what's coming.'"
One thing is clear: Now is not the time to rest. Now is the time to innovate.
Partner to create a blended organization.
As more people come to think of banking as a digital activity, fewer will care whether they do it with a traditional financial institution or a competitive fintech company. Again, when we surveyed people about whether the restrictions around Covid-19 have made them more likely or less likely to use banking services from a fintech company, 30% said the restrictions made them more likely and 9% said the restrictions made them much more likely.
The reasoning from the customer's perspective should be clear: If they're already doing most of their banking activities via a digital channel, why would they care if they do that activity with a traditional bank or a fintech company?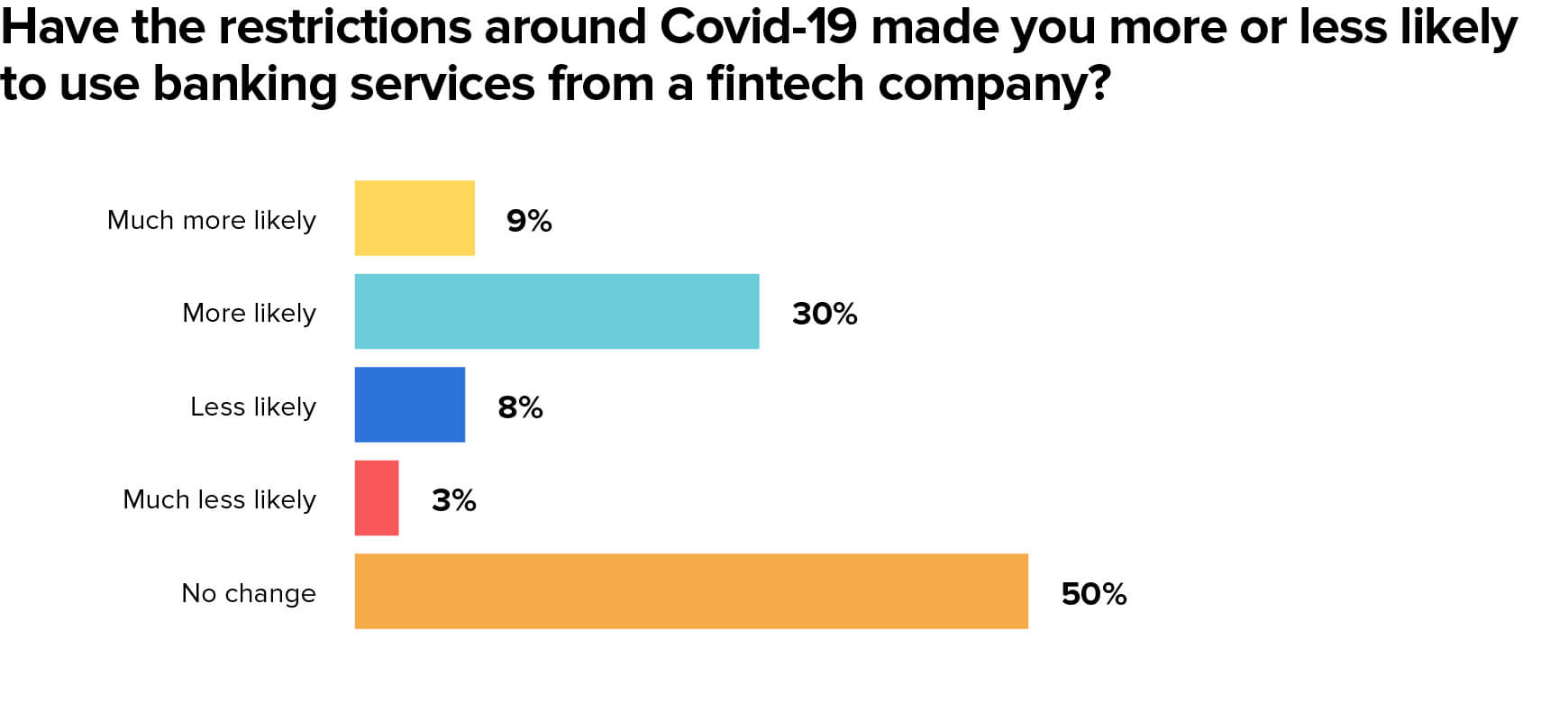 MX Research, Survey of 1,000+ Random U.S. Consumers
However, the situation isn't necessarily dire for financial institutions. After all, people still demand the service-oriented approach that leading financial institutions specialize in. To get a sense of this demand, we surveyed people at the outset of the Covid-19 shutdown (March 7th, 2020) about whether a simple and easy digital experience or a friendly and helpful staff was more important to them. Then we asked the same question four months later (July 11th, 2020). We found that the numbers more or less held steady, with a slight increase of 3% of respondents saying that a friendly and helpful staff is more important.
This data may be surprising during a time when people are relying on digital banking more than ever before. But it speaks to the ongoing importance of having the expertise, knowledge, and responsiveness that the best financial institutions are known for.
MX Research, Survey of 1,000+ Random U.S. Consumers
In an era where the lines between banks and fintech companies are blurring, the future belongs to those who best blend these two approaches. Even during a global pandemic where the need for digital services is stronger than ever, people still want to be able to contact a human. They want technology and service. "If you're a fintech and you're trying to scale, you can't just stay a fintech," says Ryan Caldwell. "And if you're a bank and you're trying to survive, you can't just stay a normal bank. There's going to be a new entity that's not like a current bank at all and not like a current fintech at all. That will be the winner."
Sam Maule adds, "An ecosystem has all kinds of players. If you don't have balance in any ecosystem, the ecosystem dies." He continues, "We're seeing the morphing of different companies in the solutions that they provide and how they work together." He says, "It has become paramount to understand how you contribute to an ecosystem." Those institutions and fintech companies that provide both cutting-edge digital technology and a helpful staff will have the edge.
As Jim Marous, co-publisher of The Financial Brand, writes, "Differentiation in the marketplace is no longer determined by price, product or location. Instead, leading brands have shown that the power of customer experience – both online and offline – is the most important component of long-term competitive and financial success." The way to achieve this level of differentiation is to merge the best of fintech and banking.
How do you do this well? Jane Fraser, president of Citi and CEO of Global Consumer Banking, says that the model of the future is, "a light branch footprint, seamless digital capabilities, and a network of partners that expand our reach to hundreds of millions of customers."
A light branch footprint, seamless digital capabilities, and a network of partners. It'd be difficult to state the way forward more succinctly than that.